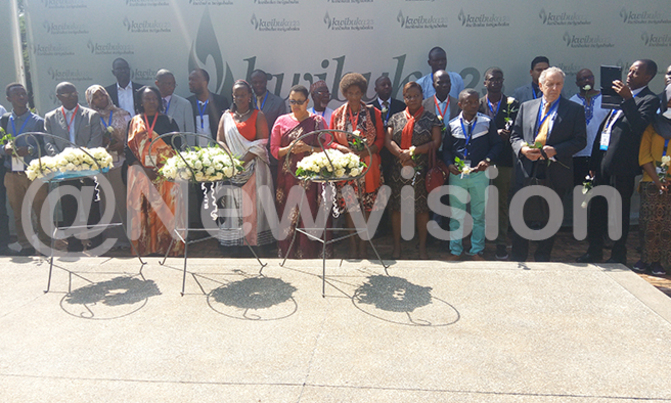 Both in Rwanda and Uganda, the locals will lay wreath at different memorial sites where victims were buried
PIC: Officials paying tribute to genocide victims at the Kigali Genocide Memorial Centre in Rwanda last year. (Credit: Hope Mafaranga)
GENOCIDE | RWANDA
Today Rwandans across the country, are gathering in different places to remember loved ones who lost their lives during the 1994 genocide.

The genocide was sparked by the death of the Rwandan President Juvenal Habyarimana, a Hutu, when his plane was shot down as it prepared to land in Kigali, Rwanda on April 6, 1994.

Habyarimana and the Burundian president Cyprien Ntaryamira as well as several high-profile Rwandan political and military officials were coming back home from Tanzania to sign a peace agreement between the Rwandan Patriotic Forces and the government.
Rwandan nationals in Uganda are also joining their countrymen in commemorating 24 years since the genocide of 1994 that left over one million people dead and over two million displaced.
An aerial view of Rubero hill showing how RPA soliders were heading to Kigali to rescue the remaining locals
The 24th Kwibuka (the Rwandan genocide memorial commemoration) national event, which being held under the theme: "Remember-Unite and Renew" is taking place at Gisozi Memorial Centre in Rwanda. The Rwandan President Paul Kagame is expected to grace the national event.

Both in Rwanda and Uganda, the locals will lay wreath at different memorial sites where many victims were buried.

Senator Tito Rutaremara, one of the founders of the Rwanda Patriot Forces (RPF), said after the plane clash, the Interahamwe militia, which largely comprised Hutus, began slaughtering the Tutsis in the country and the brutal killings continued for 100 days.

Rutaremara said as they negotiated to have a joint government, some people in the government were not happy about it.

"They were not in agreement with what President Habyarimana was doing and opposed the agreement signed in Arusha. It is common sense they gunned down the plane carrying the two presidents. What happened on the night of the shooting kick-started the genocide, the Hutus started killing their Tutsi neighbours, who were referred to as "cockroaches" and these are the people we are remembering for the next 100 days," he said.
Tito Rutaremara, one of the founders of the Rwandan Patriot Forces
He said the attackers also did not spare the Parliamentary building which hosted the Rwandan Patriotic Front (RPF) politicians and the 600-man protection force as they prepared for the installation of a broad-based transitional government and the National Transitional Assembly.

A few days after the genocide had begun, the Tutsi rebel group RPF, led by Paul Kagame, currently Rwandan President, launched an offensive aimed at toppling the Rwandan government.

Dr Diane Gashumba, the Rwanda Minister of Health, described the day as an emotional event that turned Rwanda upside-down.
The parliament building was not spared during the attacks