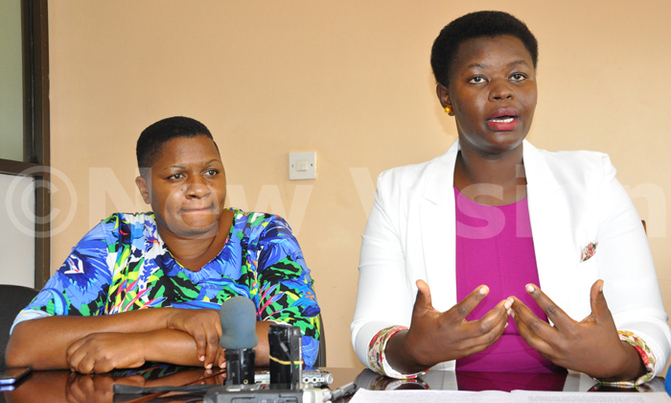 Lillian Aber, the youth council chairperson said whereas the Government spends sh50b to elect youth leaders in all the structures, they have become redundant due to lack of funds.
PIC: Chairperson for the National Youth Council Lillian Aber (right) addressing journalists as Caroline Karungi looks on during a press conference at National Youth Council offices in Ntinda on April 4, 2018. (Credit: Nancy Nanyonga)

BUDGET

By Cecilia Okoth and Lisa Nsaba

KAMPALA - The National Youth Council wants the finance ministry to heed to President Yoweri Museveni's directive of allocating them sh3b instead of the planned sh1b this financial year.

Speaking during a press conference at their offices on Wednesday, Lillian Aber, the council chairperson, said whereas Museveni in a letter addressed to the finance minister Matia Kasaija, dated December 7, 2017, instructed that the budget for the council be raised to sh3b, this has not been implemented.

The National Youth Council is responsible for advocacy and monitoring of youth-related matters in the country. However, Aber said the continued limited funding for youth matters has constrained their work.

She said whereas the Government spends sh50b to elect youth leaders in all the structures, they have become redundant due to lack of funds.

When contacted, Keith Muhakanizi, the permanent secretary ministry of finance and secretary to the treasury, said whereas the ministry implements presidential directives, budgets are usually approved by the Cabinet.

"We recognise the need to support youth councils, however, the sh1b was approved due to competing priorities," Muhakanizi said.

Unemployment

Aber observed that whereas young people constitute the biggest percentage of Uganda's population, they are the most unemployed.

It is against the above background that she said the Government should come up with a strategy to address youth unemployment.

Aware of the existing government programmes, Saidi Kirarira, the council's secretary legal affairs, said the impact of programmes such as the Youth Livelihood Programme (YLP), NAADS and Operation Wealth Creation geared towards addressing youth unemployment has not been registered.

"Under YLP, a number of youth, who were given loans to establish small-scale businesses, but the amount of funds allocated to this programmes is still inadequate," he said.

Victims of fake Hepatitis B vaccine

Meanwhile, Aber urged the Government to reprimand hospitals that administered the reported fake Hepatitis B vaccines.
"We want the Government to come up with a clear procedure of getting the right vaccine," Aber stated.

Mid-last month, the Government set out to probe several health facilities reported by the National Drugs Authority (NDA) to have been found with stocks of fake Hepatitis B vaccines.

The news of the fake vaccines thrust the public into panic mode, with reports of the potential after-effects of taking a shot of such medicine spreading.

Some reports pointed to impotence as one of the effects.

However, NDA board chairman Dr Medard Bitekyerezo had called for calm as they investigated selected health facilities.