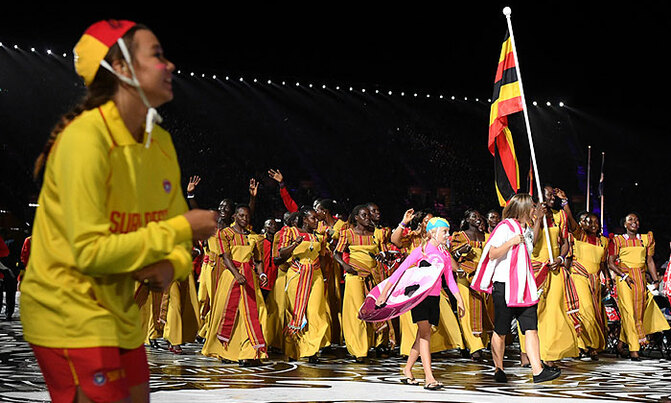 Netball star Peace Proscovia leads the Ugandan delegation during a spectacular opening ceremony of the 2018 Gold Coast Commonwealth Games in Australia.
COMMONWEALTH GAMES

Uganda has a large representation in the 2018 Gold Coast Commonwealth Games in Australia.

Here are pictures from Wednesday's colourful and entertaining opening ceremony at the Carrara Stadium on the Gold Coast.

Also related to this: Team Uganda all set in Australia
These women posed for photographs before the opening ceremony.
The Ugandan contingent flashed their pearly whites as they waved to the huge crowd.
The opening event was laden with detailed performances.
A blast from a didgeridoo, a sprinkling of royal stardust and a strong message of unity lit up the opening ceremony.
A heavy downpour lashed the 35,000 crowd at Carrara Stadium as the ceremony began, ensuring a wet start to the proceedings for many in the half-covered arena.
The competition will go on until April 15, with Carrara Stadium the main venue.
The sporting action in the Games, which feature 71 nations and territories, gets underway on Thursday.
Britain's Prince Charles and wife Camilla were among the guests and the heir to the throne was due to officially open the Games later in the painstakingly planned gala.
Kenya's flagbearer Elijah Manangoi, who competes in the 1500m race, led the delegation during Wednesday's well-organised function.
Uganda is among 18 African countries in the action featuring 18 sports competing for a total of 2,725 medals.
The great deal of preparation in achieving a memorable opening ceremony was evident on the actual day.