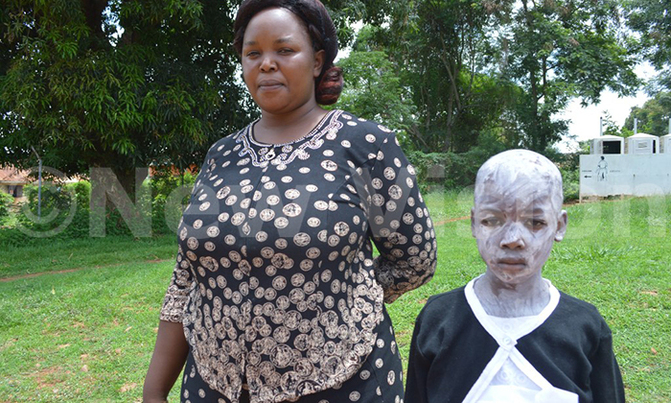 Three children dead as 197 cases are reported in Kamuli district
PIC: A mother arrives at Kamuli Mission hospital with her daughter suspected to be suffering from measles on Saturday. (Credit: Tom Gwebayanga)

HEALTH

BUSOGA - The public and the medical fraternity in Busoga region are in panic following an outbreak of measles in children between three months and fifteen years, the calamity prevailing in seven districts.

The epidemic has not only left hundreds of children hospitalised, but also claimed lives across the affected districts.

In Kamuli district, according to the district health officer, Dr Aggrey Batesaki, three deaths have been registered, while 197 cases are being handled in different health facilities across the district.

By press time, New Vision, was yet to establish the figures per district, given the ongoing Easter festivities.

A survey carried out by New vision at the close March established that the outbreak has not only affected children at household levels, but also in primary and secondary schools, especially those in boarding schools.

Speaking to the media on Friday, Batesaki said in Busoga sub-region, measles is prevalent in Kamuli, Buyende, Luuka, Kaliro, Iganga, Jinja and Kaliro districts.

He added that Kamuli district statistics showed that the epidemic had prevailed unnoticed since February, adding: "The 197 cases are those reported in health centre IIs and IIIs, minus those handled in private clinics."
He added that the health teams in the affected districts were working to organise fresh mass immunisation, which will be supported by the Rhites EC, a health organisation under USAID.

"We had planned immunising in late March, but failed due to lack of logistics however, we are set to begin off after the Easter merriments," Batesaki, added, naming the worst hit sub-counties as Mbulamuti, Kisozi, Nawanyago, Namwendwa and Bulopa.
Vanisha Nairuba (left) and Patience Nakayima are undergoing treatment at Fellowship Clinic. (Credit: Tom Gwebayanga)

Cases reported in schools with boarding sections

The epidemic has taken secondary schools, especially with boarding sections off guard.

At Irundu Modern Secondary School in Kagulu sub-county, Buyende district, the headteacher, Joy Bandebye, was forced to send two female students home for management, after developing rashes, sore mouths, running noses and vomiting.

In Fellowship Medical Clinic in Kamuli town, James Mabatya, a resident of Buwangala trading center in Buyende district narrated how his daughters, Vanisha Nairuba, 2 and Patience Nakayima, 5, survived by whisker when measles attacked them.

Root cause of measles in Busoga

The fact that measles in prevailing, yet the mass immunisation campaigns have been conducted nationwide, is mindboggling. However, Batesaki said it results from neglect by the community.

The LC5 Chairman for Kamuli, Tomas Ndimukika Kategere, said besides the public mindset and attitudes towards immunisation, there is a cult across the district, popularly known as "Njiri Nkalu", which discourages followers to immunise their children.

The medics were also blamed for being rigid on the programme; as they do not immunise routinely, save for only one day in a week.
"Immunisation should be done routinely; seven days a week. However, some medics have limited the service to one day in a week.," Moses Gangu, the district health educator for Kamuli, said.

What is measles?

Measles is one of the global killer diseases.

It is caused by infection with the rubeola virus. The virus lives in the mucus of the nose and throat of an infected child or adult. The rash appears after four days of contracting it. It is highly contagious from four days of onset.

Measles is a viral infection of the respiratory system, which can be spread through contact with infected mucus and saliva. An infected person can release the infection into the air when they cough or sneeze.

The measles virus can live on surfaces for several hours. As the infected particles enter the air and settle on surfaces, anyone within close proximity can become infected.

Drinking from an infected person's glass or sharing eating utensils with an infected person, increases your risk of infection.

Measles is a leading cause of death in children. Of the 114,900 global deaths related to measles in 2014, the world health Organisations' reported that measles victims were under the age of five.

You can also prevent an infection with a dose of immunoglobulin taken within six days of contact with an infected person.

Symptoms of measles generally appear within 14 days of exposure to the virus. Symptoms include, cough, fever, red eyes, light sensitivity, muscle aches, runny nose, sore throat, white spots inside the mouth.

A widespread skin rash is a classic sign of measles. This rash can last up to seven days and generally appears within the first three to five days of exposure to the virus.