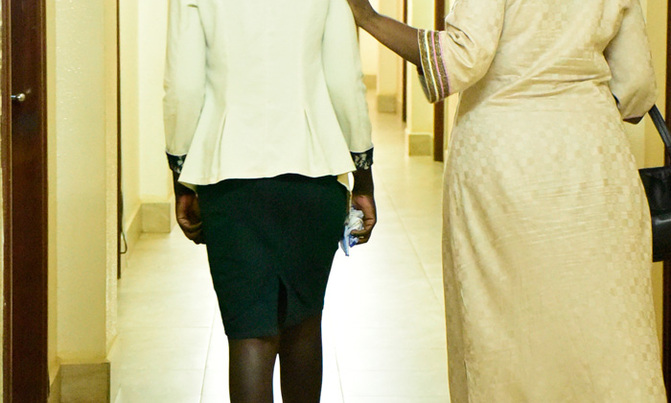 The file stalled there for a month until Anywar contacted CID head Grace Akullo. It is then that the suspect was arrested and brought to Police.
A young lady who was allegedly assaulted sexually by an employee of the United Nations High Commissioner for Refugees narrated her ordela at Parliament.
She was brought to Parliament by Kitgum Municipality MP Beatrice Anywar.
Speaking to journalists at Parliament on Wednesday, Anywar criticized Khamis Ali, the accused official, who headed a refugee camp in Lmwo district, for being incosiderate and using young girls in Lamwo district.

Victim narrates ordeal
Wearing a pale face, sitting on one side of her behind in Anwar's office at Parliament in soft voice as if in pain, willingly shares her ordeal.

"My name is … and I am 22 years old. I was working as a waitress at Little Paris Hotel in Kitgum district. During my work there, I meet Mr. Khamis Ali. He asked my name and age. I told him, and then after he asked me why I came to work at a hotel at this age. I did not answer him first," She said before pausing to contain her pain.

"He insisted, so I decided to tell him why. I come from a poor family where I am the first born and my mother is suffering from cancer so I have to work and support the family. I have never seen my father and I don't know him." She said as she slowly and carefully adjusted her siting position.

Holding about three handkerchiefs in her hands, she goes on to say that after telling Khamis her reason for working at the hotel, "He told me that he is looking for a house to rent and someone to work for him in house as house help. After asking me what I earn a month, he said if I agreed to work at his rented house, he would double my salary from sh100,000 to sh200,000 a month."

In frail voice, she goes on to say that, "He got the house to rent and took me to the house to work as house help. When I went there, I worked for a few days and all was normal. After some days Khamis took away my phone, started locking me up in the house and sexually assaulted me."

At Police
"When I managed to escape and went to police in Kitgum. I was asked to keep quiet and go back and settle the issue at home with the parents, saying that it's complicated because it involves a VIP and that exposing it would bring ridicule to my family and myself," she said.

The file stalled there for a month until Anywar contacted CID head Grace Akullo. It is then that the suspect was arrested and brought to police.

The victim had worked two months at his house without pay. She said when the suspect was taken to Police, she was able to get her money totalling sh400,000.

"After telling police that I was sick, Khamis gave sh1m; told me to keep quiet and drop the case and also go for treatment." She said as tears roll down her cheeks.
Anywar said there was a fact finding mission team the flew from Geneva to investigate the sexual allegations of their official. "They interacted with the victim, Khamis and me. They told me that Khamis has no diplomatic immunity at all." Anwar said.

Police Spokesperson Emilian Kayima, said the suspect is was arrested and taken to Jinja Road Police, but has been transferred to CIID headquarters in Kibuli.