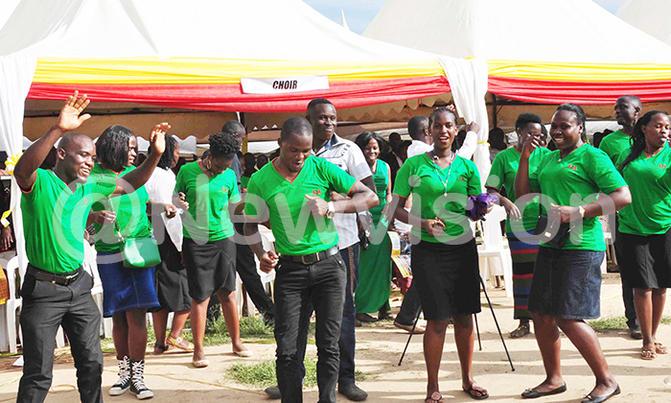 Youth were told to desist from being taken up by treasures on earth, which overshadow their faith and sense of judgment
PIC: Youth dancing during International Youth Day celebrations at St. Charles Lwanga Catholic Parish in Mpigi district recently. (Credit: Juliet Lukwago)
YOUTH | CELEBRATIONS

MPIGI - Registration for the World Youth Day 2019 has commenced after Pope Francis declared that preparations begin.

The day will be celebrated in Panama, Central America in January next year.

The youth chaplain for Kampala Archdiocese, Fr Joseph Luzindana, has encouraged the youth to register and represent their peers at the main festivities.

Luzindana made the revelations during the International Youth Day celebrations at St Charles Lwanga Catholic Parish Bujuuko, Mpigi district recently.

The event was organised by Mitala-Maria Vicariate in Mpigi district but supervised by Kampala Archdiocese.

The celebration was attended by thousands of youth from 66 parishes in Kampala Archdiocese.The Kyadondo East MP, Robert Kyagulanyi, was the chief guest. He was accompanied by his wife Barbie Itungo.

"Those who are interested in attending should consult their youth chaplains and register," Luzindana said.

The theme of the pilgrimage will be "I am the servant of the Lord. May it be done to me according to your word" (Luke 1:38).

Luzindana asked the youth to desist from being taken up by treasures on earth, which overshadow their faith and sense of judgment.
Robert Kyagulanyi (centre) with his wife Barbie Itungo (right) at the event. (Credit: Juliet Lukwago)
Kyagulanyi asked the youth to work hard by making use of their talents to transform the society.

"Jesus was a youth like us. He was crucified at 33 years. He changed the world and that is why we kneel before him. Let us always do things in the right time," he said.

Kyagulanyi also launched the Wakiso vicariate, the next host of the International Youth Day in Kampala Archdiocese.

Profile of day

Pope John Paul II (now Saint) created the World Youth Day in 1985 to harness the energy of young people and encourage them to participate in his call for a "new evangelisation."

The first World Youth Day gathering took place in Rome in 1986. The gatherings, held every three years, draw millions of participants from around the world.

The late pontiff also created a special "youth section" within the Vatican's Pontifical Council for Laity, charged with co-ordinating world youth days.