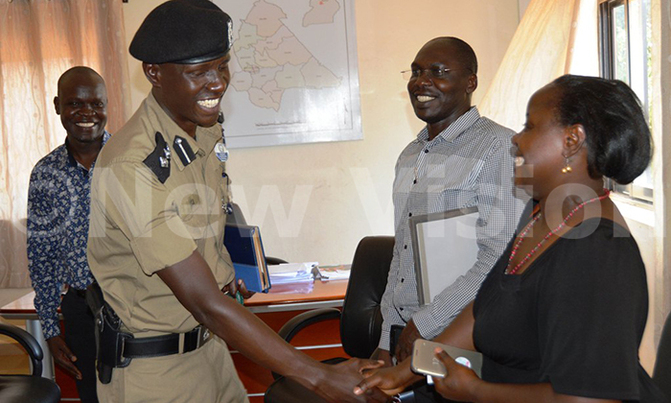 Eremu encouraged local governments to partner with New Vision to expand the NiE project, which is currently running in a few schools.
PIC: Ezekiel Emitu, the newly deployed River Aswa Police regional commander having a hand shake with Jovita Ajuna. Looking on is John Eremu (right) and the Gulu district Chairman Martin Ojara Mapenduzi. The New Vision team had just finished briefing the chairman on Newspapaer In Education project. (Credit: Arnest Tumwesige)

EDUCATION

GULU - The New Vision's Newspaper in Education (NiE) team has held a meeting with the Gulu district LC5 chairman, Martin Ojara Mapenduzi, to discuss possible project partnerships.

Mapenduzi hosted the team at his office in Gulu town on Tuesday morning, together with Richard Rwabuhinga, the Kabarole district LC5 chairman.

During the meeting which lasted about two hours, the New Vision features editor, John Eremu, presented the NiE concept to the chairman, who appreciated the initiative.

"You have come at a time when we are trying to push the education sector performance to another level. I know the importance of newspapers in education," Mapenduzi said.

The chairman revealed how he used to support schools in Gulu buying Pass PLE pullouts and the results were good.

He acknowledged the poor academic performance of schools in northern Uganda compared to other regions, which he said needs to change.

"Compared to other districts in northern Uganda, Gulu is slightly better off, but that is not what we want. We want to be excelling like Kabarole, Wakiso and Kampala districts," Mapenduzi said.

Although the majority of schools in Gulu have good infrastructure such as classrooms and teachers' accommodation, Mapinduzi says this is not reflected in the performance of learners.

"In Gulu we do not have schools where learners sit on the floor or study under trees," he said.

He, however piled the blame for poor performance on teachers, who he said are sometimes not conversant with what they teach.

Eremu explained how NiE is being implemented in Karamoja, Nakasongola and few schools in Gulu, but mainly sponsored by non-governmental organisations such as Save the Children Uganda and PEDN.

"We want the local governments to appreciate this project. It will be a great opportunity for the local governments to give back to their communities. The project will be more sustainable if the local governments come on board," Eremu said.

He encouraged local governments to partner with New Vision to expand the NiE project, which is currently running in a few schools.

Jovita Ajuna, the media in education advocacy manager called on local governments to support the project which will see children improve literacy levels.

NiE is a project started by New Vision to improve the literacy in primary schools. It is an initiative encourages the use of Newspapers to innovatively deliver the curriculum.