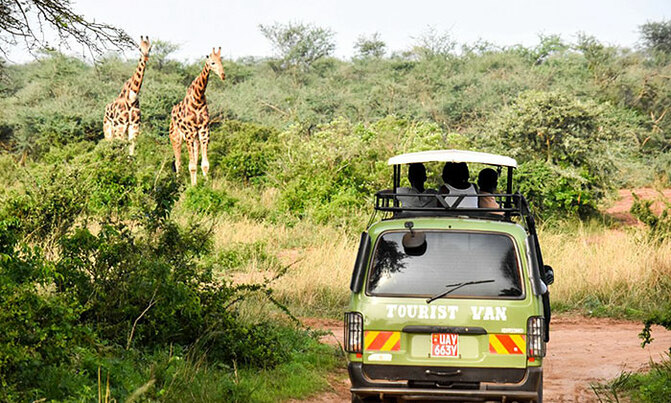 Game drives in Murchison Falls National Park last for approximately three to four hours depending on your interests.
PIC: A morning game drive in Murchison Falls National Park. (Credit: Jonathan Benaiah/The Ugandan Tourist)

TRAVEL

Murchison Falls National Park is Uganda's biggest national park and arguably the most beautiful considering that the world's longest river, the river Nile traverses the park and the mighty Murchison Falls from which the park derives its name is found there.

Game drives in Murchison Falls National Park last for approximately three to four hours depending on your interests. Animal species often seen include; warthogs, giraffes, buffaloes, lions, leopards, waterbucks, Ugandan kob, oribi, hartebeest, sitatunga, bushbucks, duikers, mongoose, genet, hyenas, jackals, elephants among others.

Hiring a 4x4 safari vehicle in Uganda is ideal for game drives because the roads can get slippery incase it rains. Safari vehicles with pop-up roofs help the tourists to get better views of the animals in the park.
Such are the pictures you can expect to chance on in Murchison

Driving offroad looking for animals is prohibited because the vehicles might get stuck in hard to reach areas of the park. There are designated tracks for game drives that are followed throughout the park.

Tourists who need to navigate the park with ease can choose to hire a ranger guide that knows their way around the park. These guides also know where specific animals are usually found in the park and have all the information the tourists might need regarding animal or bird species.

Game drives are best done early in the morning when the animals are still out in the open or during the night as they lurk around looking for prey. There are also very many bird species in Murchison Falls National Park which can be spotted during game drives.
Elephants grazing peacefully inside the park
The tallest animals on the land are a feature in Murchison

A successful game drive experience is also determined by the safari lodge you choose to stay at while in the park. Pakuba Safari Lodge for example is situated in the area with the highest animal population and the section where the rare Leopards like to linger around.

Tourists are advised to come with binoculars, cameras, warm clothing, sunscreen, hat, etc.

Tourists always combine and spice up their wildlife safari to Murchison Falls National Park with Chimpanzee Trekking experience in Kibale Forest Park and with a visit to Bwindi Impenetrable National Park for Gorilla trekking in Uganda, one of the most exciting tourist activities in Africa.