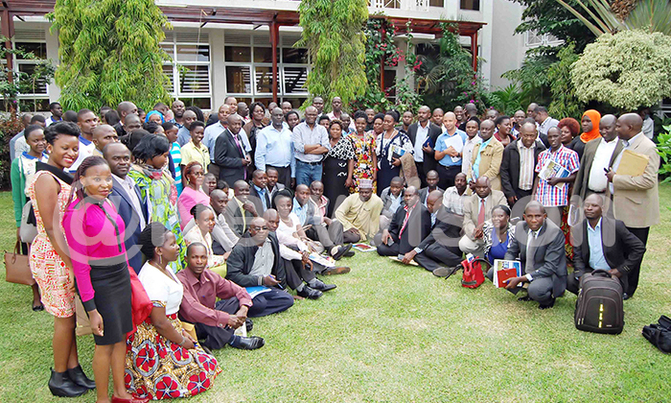 The girls will also be facilitated to open up savings accounts in selected banks
PIC: Guests after the launch of the Suubi4Her study in Masaka district. (Eddie Ssejjoba)
EDUCATION | GIRLS
Leaders in the Greater Masaka region have asked schools to give special focus to older girls who enroll in secondary schools. This is meant to help them deal with sexual temptations.

The leaders attribute risky sexual behaviour among older adolescents, especially on enrollment to secondary school, to the increasing cases of pregnancy. Other issues are the high school dropout and sexually transmitted infections, including HIV/AIDS.
The area, including Rakai district, where the first case of HIV/AIDS was first reported in 1982 in Uganda, is still grappling with the scourge. This is evidenced by the increasing new infections, coupled with poverty, high cases of teenage pregnancy, early marriages and illiteracy.

The appeal was recently made in Masaka town at the launch of the Suubi4Her Study, a research project funded by Washington University School of Medicine, US, through the International Centre for Child Health and Development (ICHAD), headed by Prof. Fred Ssewamala.

At least 1,260 older girls who enrolled in secondary schools this year (Senior One) will participate in the study. The girls, between the ages of 15 and 17, are from 42 schools in the districts of Masaka, Rakai, Kyotera, Lwengo and Kalungu.

The project, a combination intervention addressing HIV risk behaviours among older adolescent girls transitioning into adulthood, considers the age bracket at the highest risk and likely to prematurely terminate their education career.

The project supposes that most older girls come from communities affected by poverty and HIV/AIDS. The girls will be trained in vocation skills and be helped to startup small income-generating projects from their respective homes. This will help them raise money to buy scholastic material.

"This empowerment will enable them have their own sources of income to meet personal and educational needs rather than expect men to assist them,"Jennifer Nattabi, one of the project co-ordinators, said.

The girls will also be facilitated to open up savings accounts in selected banks on which they will be required to deposit savings with the help of their guardians and relatives. The project will in turn match the savings with a contribution of $10 at a one-to-one incentive basis.
Prof. Fred Ssewamala addressing participants at the launch of Suubi4Her study

The savings are meant to help the girls meet their education expanses and microenterprise development including startup capital for small projects like chicken or goat rearing, piggery and crafts making.

Haji Yusuf Mayanja, the vice-chairperson of Kalungu district, said many school girls in his district fail to even complete their first year in secondary school because they become prey to men who lure them out of school to marry them at an early age.

Godfrey Kayemba, the Mayor Masaka Municipality appealed to teachers, parents and communities to help teenage girls live their dreams of pursuing education.

"We should embrace this project, especially the aspect of adding on the income-generating projects that will be set up for the girls," he said.

Prof. Ssewamala said the girls in the study will receive standard health including HIV screening.

Those who will be found positive with sexually transmitted infections (STI) including HIV, will be facilitated to get medical treatment including antiretroviral therapy (ART). The project will make follow-ups visits to ensure that HIV positive girls on ART adhere to treatment.

In addition, according to Prof. Ssewamala, the project will provide regular sex education, which he said is expected to reduce risk behaviour and improve education performance.

Political and religious leaders, headteachers, community and opinion leaders from the five host districts attended the ceremony. Also, ICHAD signed a memorandum of understanding with headteachers of the selected schools on how the project will be implemented.