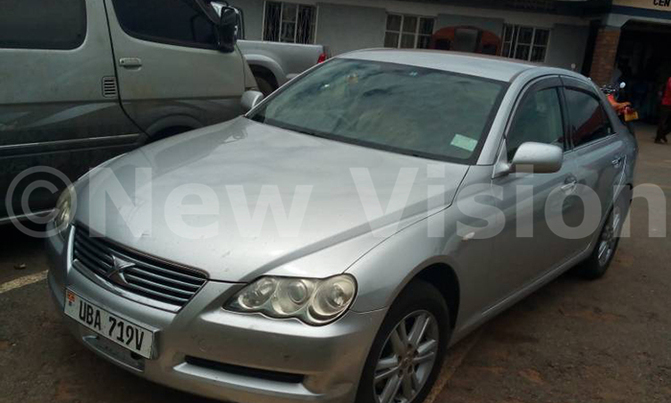 Shadard Matovu was arrested in connection to the theft of the vehicle.
PIC: The recovered vehicle at Pakwach Police Station. (Credit: Robert Ariaka)

CRIME

ARUA - The Police in Arua in a joint operation with officials of Uganda Revenue authority on Friday recovered a stolen motor vehicle.

Josephine Angucia, the West Nile public relations officer said the operation started from 8:00am to 10:00am as Police commanded by Mugweri Edward, the regional crime intelligence officer recovered a Mark X registration number UBA719V.

The vehicle, which is silver, was recovered from Igara A and B villages, Ombavu Parish, Arivu sub-county in Arua district.

Shadard Matovu was arrested in connection with the theft of the vehicle.

The moto vehicle and the suspect were transfered to Pakwach Police Station.

This is the third recovery of vehicles in the region, with the previous one being of a Prado TX UBA 321T on March 4, 2018.

Another Toyota Noah registration number UBB 765K was recovered by the flying squad on February 27, 2018 in Arua town.

They were taken to Kajansi and Ntinda Police stations in Kampala, where the theft cases were reported.

Last year, the Police flying squad recovered over 60 stolen motor vehicles as they about to cross to the Eastern DR Congo.