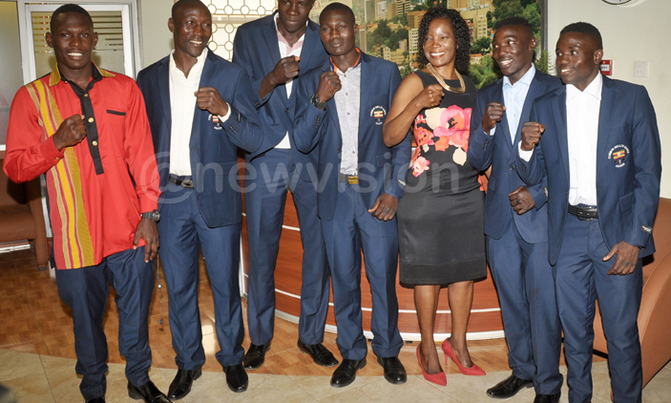 Musisi noted that KCCA were progressively taking over international representation of the country.
Kampala Capital City Authority athletes that are part of team Uganda to the 21st Commonwealth Games in Gold Coast, Australia have received a sh10.8m boost from their parent body KCCA.

In addition to the government facilitation, KCCA supplemented each of their athletes' contingence allowance for their five boxers and one athlete with sh1.8m each in a further boost to their morale, while on national duty.

Thomas Ayiekho (athlete) and five boxers that included Shadir Musa, Reagan Ssimbwa, Nasser Bashir, Juma Miiro and David Ssemuju received the money at the 'White House' on Friday.

Musisi noted that KCCA were progressively taking over international representation of the country, citing KCCA FC's exploits in the CAF Champions League and now with all five boxers from the institution to the Commonwealth Games.

"We are very proud and happy that KCCA is once again shining and raising the Ugandan flag at an international level. I want to congratulate the boxing team for making it to the Commonwealth Games," Musisi said before she cautioned them on discipline and against disappearing.
The Lord Mayor Erias Lukwago (center) and KCCA staff and UBF president Moses Muhangi pose with the Bombers at the Lord Mayors' office
"We committed as KCCA to invest in sports as a social tool that brings people together from all walks of life and we are committed to excellence, not only in what we do in the city but also in developing professional men and women,"

"We are going to commit resources and technical support to ensure our teams continue excelling and I to thank them for their time dedication and commitment. I wish our team great success as you go out to show the excellence that we have as Uganda and I believe you'll make us proud; I believe in you and keep in the international field as long as you can," Musisi stated.

Lord Mayor Erias Lukwago who met the contingent later advised the boxers to emulate the late Mohammed Ali and endure the hardships they have now, but leave as champions.

"Be firm, have the confidence, stamina and zeal, well knowing that all Ugandans are behind you. We give you all the blessings and we shall pray for you because you're going to represent and market us so put in your best," Lukwago advised.

"I expect you to hoist our flag high because our record in athletics and boxing is very good and we only expect gold medals. You have brought us honour and glory from previous games but we need to better that record and I have hope we can do it," Lukwago said.

KCCA Boxing Club Chairman Abbey Asiimwe and UBF president Moses Muhangi and a number of KCCA staff attended the press conference.

Muhangi hailed KCCA for being a model club and said the national team will continuously be selected on merit, before cautioning the boxers against disappearing in Australia after the games.