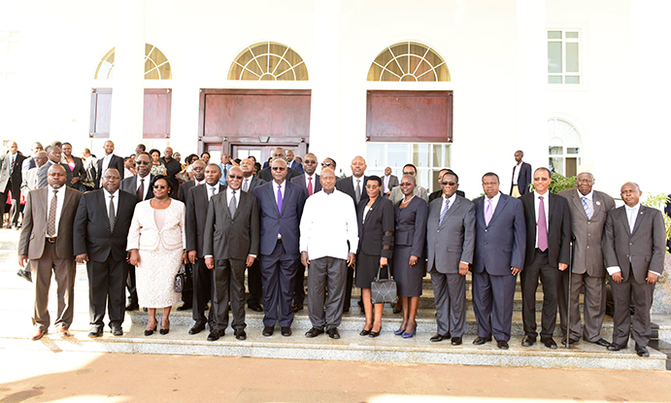 Museveni it is important that the population builds trust in the judiciary to curb crime
PIC: President Museveni (centre) with the newly sworn-in judges at State House Entebbe on Friday. (Credit: PPU)
CEREMONY | JUSTICE

ENTEBBE - President Yoweri Museveni has asked the judges and justices of the judicature to emulate the effectiveness of the British colonial judicial and Police systems whose services, he said, were impressive.

He said the effectiveness and transparent way the British colonial institutions worked, helped to deal with crime.

Museveni made the remarks during the swearing-in ceremony of the 16 newly appointed judges and justices of the judicature on Friday at State House Entebbe.

He said the system was impressive that when someone commits murder today, the Banyankole say they wished it had happened during the colonial times because the suspect would not escape justice.

"The locals in the villages were impressed by the effectiveness of the British judicial and Police systems that they even internalised them in their own cultures," Museveni said.

He revealed that the locals in Ankole so much believed in the British Police that if someone committed murder and the evidence was not very clear; they wished that the Police took the head of the deceased with them to find out the murderer.

"The Banyankole believed that when Police took the head to the machine, it would reveal the killer," Museveni said. He added that the locals would not understand how the Police who were not at the scene of the crime would discover the killers.

The President congratulated the judges and justices for their new appointments and appealed to them to be fair and just while executing their work.

He said it was important that the population builds trust in the judiciary to curb crime.
Museveni with Justice Jane Frances Abodo and her family after swearing-in ceremony
The High Court judges who were sworn-in, are Paul Gadenya Wolimbwa, Tadeo Asiimwe, Emanuel Baguma, Jane Frances Abodo and Joyce Kavuma. Others are Alex Mackay Ajiji, Olive Kazaarwe Mukwaya, Cornelius Kakooza Sabiiti, Musa Sakaana and Patrick Wabwire.
The two justices of the Supreme Court who were presented but not sworn on Friday because judges take the oath once in their career were Richard Buteera and Paul Mugamba.

Those of the Court of Appeal were Stephen Musota, Christopher Izama Madrama, Ezekiel Muhanguzi and Percy Night Tuhaise.

Museveni said he was glad to see that more young blood is joining the judiciary.

"It is pleasing to see the evolution of the institutions such as the judiciary with new blood, but it is important that you uphold the reputation of the institution," he said.

The Chief Justice, Bart Katureebe, thanked President Museveni for always providing his shoulder for the judiciary to cry on.

He also warned the judicial officers against misbehaving.

Katureebe said: "The public expects nothing but people of high moral integrity from the judicial officers. It is not the knowledge of law that is more important here, but people must trust us based on the decisions we make."

Present at the ceremony were the First Deputy Prime Minister Gen. Moses Ali, Principal Judge Yorokamu Bamwine, secretary to cabinet John Mitala and justice minister Kahinda Otafire.