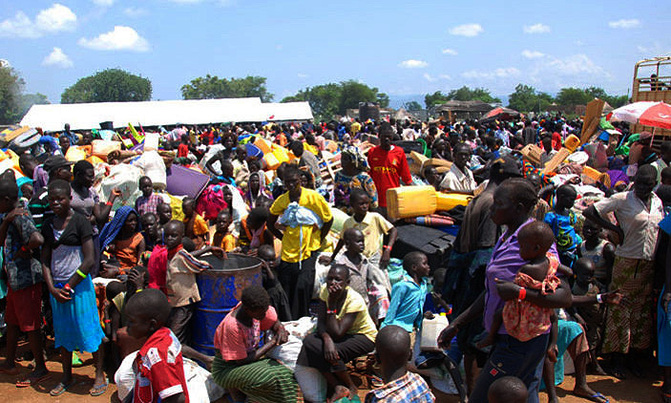 Nearly 258 million people, about 3.4 per cent of the world's population, are living outside their countries of birth.
Parliamentarians from over 137 countries are meeting in Geneva from Saturday March 24 to 28, 2018 seeking to identify and agree upon parliamentary inputs to the UN-led reforms on the rights and protection of migrants and refugees.

Nearly 258 million people, about 3.4 per cent of the world's population, are living outside their countries of birth.

Uganda, reports say, is hosting over one million refugees who have fled from countries including South Sudan, Democratic Republic of Congo and Burundi.

In 2016, UN Members determined that the existing global migration regime offered insufficient protection of the human and socio-economic rights of migrants and refugees and called for two global compacts to strengthen them - the Global Compact for the Safe, Orderly and Regular Migration and the Global Compact on Refugees.

Meeting at the 138th Inter-Parliamentary Union (IPU) Assembly in Geneva, more than 740 MPs, including 65 Speakers of Parliament and 216 women parliamentarians, will ensure that the interests of the 6.5 billion people they represent are part of the global negotiations on the new migration regime, according to a press release dated March 20, 2018.

MPs will look in detail at their contribution to ensuring domestic enforcement of the two related Global Compacts expected to be adopted by the UN community later this year.

The IPU Assembly will also run two workshops defining concrete parliamentary actions on refugee protection and comprehensive refugee responses.

During the five-day IPU Assembly, IPU Members will adopt a resolution on sustaining peace as a vehicle for achieving sustainable development. This resolution affirms the link between effective implementation of the SDGs and conflict prevention and sustaining peace. At the heart of this debate is the need to build strong and effective institutions, such as parliaments.

A second resolution will be adopted on engaging the private sector in implementing the SDGs, especially on renewable energy. This resolution is expected to call upon parliaments to facilitate private investment in sustainable development, especially renewable energy, by setting up public-private finance mechanisms, fostering a business climate conducive to research and development investment and to creating legal incentives to attract private-sector investors.

The Inter-Parliamentary Union (IPU) is the global organization of national parliaments. It works to safeguard peace and drives positive democratic change through political dialogue and concrete action.