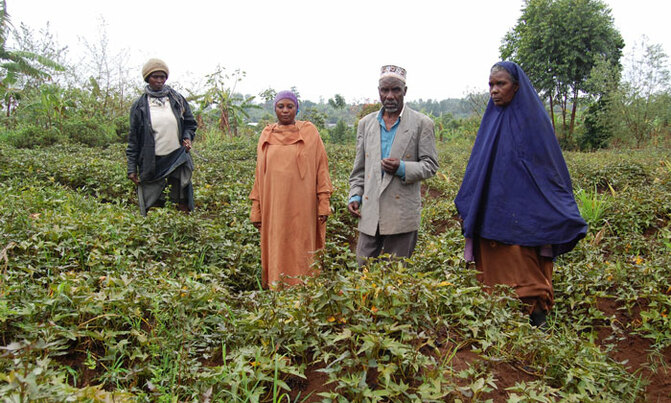 "I started engaging the community and some people picked interest and joined me. That is when I started the idea of community mobilization," Nabukeera says
PIC: Some of the farmers who have been trained on the preparation and consumption of indiginous food in Kabarole
Rehema Nabukeera, 32, was born in Kanyambeho village in Kiko town council Kabarole district. She has dedicated her life to towards fighting malnutrition by promoting the growing and consumption of local food in her community.
Nabukeera, a single mother of two, is a member of the Orugali group under the Kabarole Resource and Research center (KRC).
Nabukeera says in 2016 she was one of the few selected farmers by KRC and trained on how to prepare and preserve indigenous food so as to fight malnutrition. She says that after the training, she realized that it didn't require a lot of money to eat nutritious food, but it required behavioral change.
"I started engaging the community and some people picked interest and joined me. That is when I started the idea of community mobilization.
"As Orugali group we work with KRC to advocate the consumption and preservation of indigenous foods through food festivals at community level or major events," Nabukeera says.
Nabukeera says the group also uses traditional cooking methods that preserve food values and keep the food safe.
"I have trained over 100 members and I trained them after acquiring the skills because we had a challenge of malnutrition. Most of our children in the community were malnourished and yet people have food within their homes," Nabukeera says.
The indigenous food advocate is also a member of the Coalition of the Willing-a group of 20 people which consist of National Organic Agriculture Movement, Fort Portal Municipal council, village councillors, street food vendors, small and medium enterprises, elders and artists mentored and supported by KRC that voluntarily came together to raise voices and concerns about healthy diets and the general food system in Kabarole District.
Nabukeera has participated in different education awareness sessions, including radio programmes, cookery demos to raise awareness on healthy diets. Being a woman councilor for her home area gives her the platform to do all this awareness.
"Whenever I have an opportunity to speak at any public function. I talk about diet because it is an issue of concern within our community," Nabukeera says.
Nabukeera is also a community based facilitator who trains other farmers on farming and nutrition best practices.
The ministry of health indicator survey recently ranked Kabarole district as one of the districts with many cases of malnutrition accounting for over 65% cases of stunted growth and 53% cases of anemia among the children aged between 6 months and 4 years

Currently malnutrition stands at 41.6% in Kabarole higher than the national rate of 35%. According to the report the Malnutrition rates could have doubled, especially during the last few years because of the poor eating habits in most families.
According to the Ministry of Health Nutrition department, Malnutrition is a significant public health problem in Uganda and is a direct cause of 35% of all under 5 child mortality. In 2015, The Cost of Hunger in Africa" study revealed that Uganda loses shillings 1.8 trillion in a single year due to poor nutrition.
Frank Moses a community leader says Nabukeera's orugali approach in the sub county has saved people's money to invest in transporting their produce markets, to take their children to better schools, to build better houses, and to invest in value addition ventures which are features of rural development.
Uganda loses $899m annually - as much as 5.6 per cent of its Gross Domestic Product - due to the effects of malnutrition according to a recent study, entitled "The Cost of Hunger in Africa". Nutrition education for our citizens will help to reduce the health burden.
A Food and Agriculture Organization (FAO) news release dated 17 January 2014 stated: "The priorities for agricultural research and development must become more nutrition enhancing, with a stronger focus on nutrient-dense foods such as fruits, vegetables, legumes and animal-source foods, as well as local biodiversity and diversified farming systems."