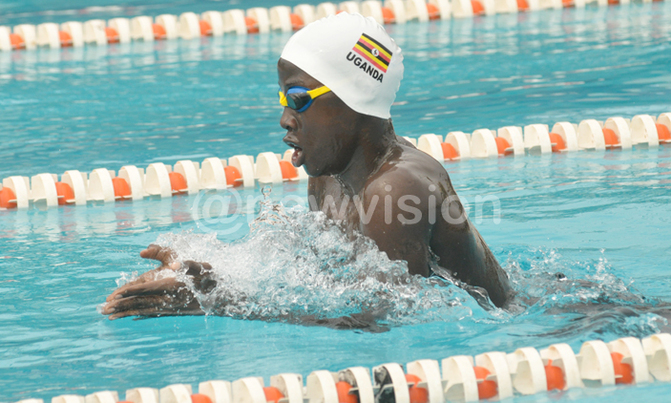 Coach Tonnie Kasujja who is in charge of the team said 90 percent of the team is new to this competition.
An eleven-man team leaves for Malawi on Tuesday to compete in the annual CANA Zone IV swimming championships in Malawi, March 21-24.

With a limited number of participants, Ugandan swimmers' main focus will be to improve on their personal bests and where possible win individual medals at the four-day event.

The team includes Samora Lumonya (Captain), Abba Mayanja, Kirabo Namutebi, Tendo Mukalazi, Raphael Sine, Paulsen Ssetumba, Kevin Rugaaju, Mercedes Mwebeiha, Shelby Rose Clow, who will be joined by the South African based pair of twin brothers Fadhil and Nabil Saleh.

Coach Tonnie Kasujja who is in charge of the team said 90 percent of the team is new to this competition, but was confident they would use their experience from elsewhere to cope with the level of competition.

"They have been training hard; it is up to the federation to continue exposing their swimmers. We are going there to showcase our potential but also to get more exposure and experience and we expect to perform very well," Kasujja stated.

"My focus is going to be on each individual but there are swimmers such as Kirabo, Mukalazi and the Saleh brothers, who have been there before so we expect them to do well; we expect more personal bests," Kasujja added.
Samora Lumonyai in action as he prepared for the CANA Zone IV Swimming Championships pose at Gems pool before they left for the championship. PHOTO: Michael Nsubuga
"We are going to try our best to get personal bests; we are going out there to enjoy the experience because for some of us it is our first time but for those who have been there it is about trying to do better," assistant captain Clow said.

The team will compete in over 50 events including the relays where they are short by two swimmers in the girls' 13-14 years category.

NCS Assistant General Secretary in charge of administration Patrick Ogwel who flagged off the team at Gems on Sunday said council had contributed sh10m to the team and thanked the parents and USF for giving opportunity to the youngsters to compete internationally.

"Unlike other sports it is the parents responsible for all these success stories and we greatly appreciate your role. Swimming is one of the core sports we are looking forward to strengthening," Ogwel stated before assuring the swimmers that government had approved NCS's Public Private Partnership project to develop Lugogo and that one of the facilities there would be an Olympic size 50 meter pool.

Chairperson of the athlete's commission of the Uganda Swimming Federation Avice Meya advised the swimmers to work and support each other, be motivated and also learn from the experience and also win medals.