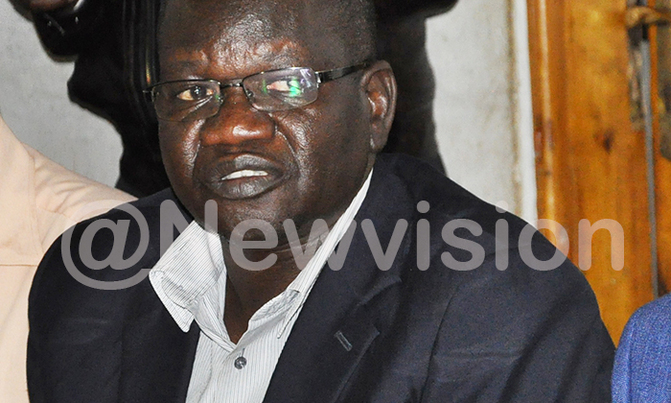 The board will be led by Phillip Wafula Oguttu as chairperson
PIC: FDC party president Patrick Amuriat
POLITICS
KAMPALA - The Forum for Democratic Change (FDC) on Monday announced a new interim appointments board as a way of strengthening the party structures.

According to the FDC party president, Patrick Amuriat, the board is tasked with accomplishing a number of duties that include the appointment of the interim electoral commission.

"The management committee has developed a long list, which will on approval by the National Executive Council (NEC), be handed to the board for vetting," he said.
While addressing journalists at the party headquarters in Najjanankumbi, Kampala, Amuriat said the board will also appoint the elders committee.

"The board will also set up a team to kick start development plans for party headquarter complex and set up performance standards for FDC leadership in Parliament, cabinet secretaries, NEC, districts and staff for headquarters," he said.

Flanked by deputy president for Buganda region, Amuriat said they have launched a campaign for the identification of gaps within the party structures and also to encourage FDC members to take up leadership positions.

"Field mobilisation activities across the country covering 19 out of 20 regions by staff of the secretariat have taken place," he said.

The board will be led by Phillip Wafula Oguttu as chairperson. Members are Augustine Ruzindana, Kibuuka Mukalazi, Dr. Elizabeth Kiwalabye, Eng. Emmanuel Bukabeeba, Okin PP Ojara and Kalule Sewali Abby.

Amuriat also said the party scored successes in this direction of the recruitment over the last 100 days, with a number of members who had openly expressed non-cooperation with the party returning to actively participate in its activities.

"We have also registered new membership of especially prominent political personalities of our society. I am happy to report that following notables have joined the party," he said.

Those who joined are Dr Stella Nyanzi, an academic and activist, Vincent Kyamadidi, the former MP of Rwampara Constituency and Andrew Allen, the former MP of Bugabula North constituency. Others are John Baptist Asea Ozuma, the former Mayor of Lugazi and Edwin Akuragye.