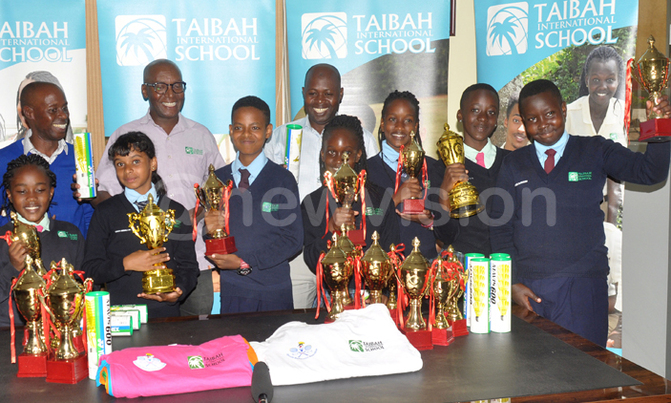 The tournament will be competed for by over 30 schools.
Over 300 students are set to compete in the annual Taibah Schools Badminton Championships from March 16 to18 at the MTN Arena.

A number of badminton players such as Shamim Bangi, Aisha Nakiyemba and Brian Kasirye have risen through the ranks by competing in the annual tournament for primary and secondary schools.

As the tournament starts, students should find enough inspiration from the likes of Shamim Bangi, Brian Kasirye and Aisha Nakiyemba who came through this tournament and now are going to represent the country at the Commonwealth Games in Australia.

Kasirye who beat Muzafar Lubega to the U-19 trophy in last year's final is still the favorite in the three-day event that ends Sunday.

Addressing the media during the launch of the event at Taibah School Bwebajja campus, UBA CEO Simon Mugabi said the tournament will be competed for by over 30 schools in the under 10, 13, 15 and under 19 categories for secondary schools.

"Very big prizes are at stake and every participant will enjoy themselves though it is always a very competitive event with close to 300 participants," Mugabi said before he received an assortment of equipment to be used in the three-day tournament from the Principal Taibah International School, Oscar Semweya Musoke.

Semweya who announced a sh10m spomsorship, said they would continue sponsoring the tournament because the school believes in wholesome education that includes sports activities.

"In addition to education we value a sporting child and also do music, dance and drama. We hope like always many schools can take part so that we can be seen reaching out to many children through their participation in sports," Semweya stated.

He said he was pleased to see some of their alumni competing well on the international scene.

Paul Makande, Husna Kobugabe, Paul Makande and Natasha Rajab are the defending champions in the U-19 and U-15 categories respectively while Mbogo High and Kakungulu Memorial are the team events defending champions.