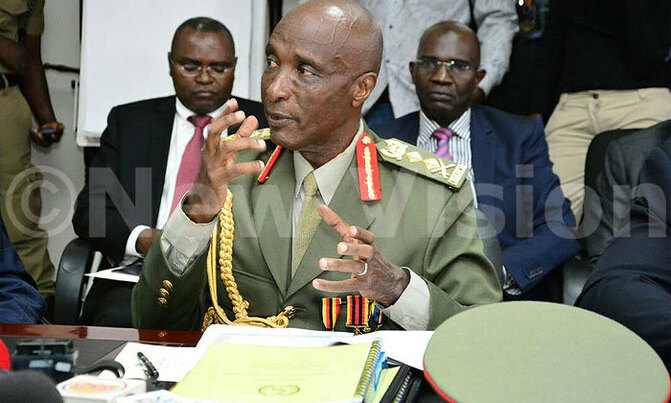 "I took over when Police had no wings. But now, I have left when it has wings," says Gen. Kayihura, who led the Police for 12 years.
SECURITY | CHANGE OF GUARD IN POLICE LEADERSHIP

KAMPALA - Martin Okoth Ochola has officially taken over the leadership of the Police, with his predecessor Gen. Kale Kayihura saying he has handed over an improved Police Force.

Okoth has taken the baton as the Inspector General of Police (IGP) from Kayihura, who was in charge for a record 12 years and two months. No other person had been at the helm of the Police for that long.

"I took over when Police had no wings. But now, I have left when it has wings," Kayihura, wearing full army uniform, said at the handover ceremony at Naguru Police headquaters in Kampala on Thursday.

The event was overseen by internal affairs minister Gen. Jeje Odongo, who hailed Kayihura for adding "value to the Police - both qualitatively and quantitatively".
Senior police officers, government representatives and the media attended the ceremony on a wet morning in Kampala.

Across the table in the filled boardroom, Kayihura, 62, sat flanked by Kania Mario Obiga, the Minister of State for Internal Affairs, before giving a brief of his handover report.

On the other side of the table was his successor, Ochola, flanked by his deputy Brig. Sabiiti Muzeeyi, who was part of the military police before his new posting.
"I am delighted to be handing over to Ochola... I have worked with him and I enjoyed working with him. It is a pleasure that it is him that I am handing over this office to," the departing Police chief said in his remarks.

At the end of his "tour of duty", Kayihura said his time at the top was not a "small achievement", having served in the position for more than a decade.

But he admitted that "I may have fallen short in my assignment", which "I deeply regret".

"What gratifies me is, in spite of the recent bad image (of the Police), I am handing over a Police Force that is in much better shape than the one I took over from," he said.

"The Force is now built on a solid foundation. There are imperfections, which I believe the new leadership will improve.

"We have had more achievements than failures," Kayihura, often making reference to his report, said.
Kayihura's regime came to an end 11 days ago, when President Yoweri Museveni, who is the commander-in-chief of the armed forces, announced reforms in the top security leadership.

In the shake-up, the long-serving Police chief was replaced by his deputy Ochola. Ochola would be deputised by Muzeyi, who was serving in the military Police.

The security reshuffle also saw security minister Lt. Gen. Henry Tumukunde dropped for Gen. Elly Tumwine.

The new appointees would later be approved by Parliament, as per standard procedure.

Kayihura said President Museveni's choice for his replacement, Ochola, was an indication that "something good was done" in his regime.

He underlined that he took over Police at a time of turbulent activity - a period of "lawlessness, political turbulences, including the walk-to-work protests, and spikes in violent criminality".
'Crime went down'

But the departing IGP said the crime situation in the country continued to assume a "downward trend", although he admitted that last year, there was a "slight increase" in crime.

"During my tenure, crime went down, and that one, you cannot rub it off my record."

Kayihura highlighted the use of crime preventers and technology in curbing criminal activity, infrastructural development (including building police stations and barracks, especially in the north and north east).

He also talked of how "we strengthened police regional co-operation" and other forms of bilateral co-operation, as among his achievements.

"I thank President Museveni for putting his trust and and confidence in me. He promoted me from Major General to Lieutenant General and then to General. This is not a small achievement.

"I am a loyal soldier in the struggle to transform our country and I will remain so," Kayihura said, earlier saying he leaves with "optimism in the future of our country".

He said he is "entirely indebted to the people of Uganda", especially the youth (for example the crime preventers).
Incoming IGP Ochola thanked his predecessor for his guidance and support, as well as the media for reporting about the Police.

He particularly further called on the media to report positively in support of Police work, and congratulated his deputy Muzeyi on his new role.

"I pray that you continue giving us guidance," Ochola appealed to Kayihura.
Top Police officers attended the Thursday handover ceremony


ALSO RELATED TO THIS STORY

Security shake-up: Kayihura, Tumukunde dropped