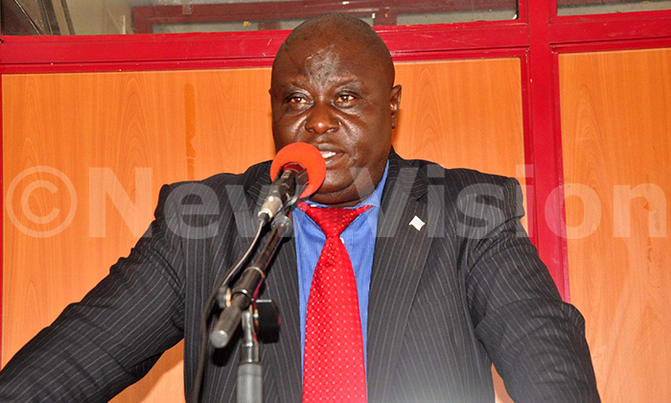 The President stated that a sick and sleepy NRM MP is far better than an active opposition MP.
PIC: UPC party spokesperson Micheal Osinde Orach addressing media during a weekly press conference at the party headquarters. 14th March 2018. (Credit: Ashraf Kasirye)

POLITICS

KAMPALA - The Uganda People's Congress (UPC) has lashed out at President Yoweri Museveni's over the remarks he made during the campaign for Nathan Igeme Nabeta, the National Resistance Movement (NRM) flag-bearer in the Jinja East byeelection on Tuesday.

The President cautioned the electorate against voting for opposition candidates to go to parliament, arguing that these usually suffocate service delivery and development in the constituency since they may not easily meet up with him to discuss development.

Museveni urged voters to look out for a person with the ability to work for the peace of the country and also lobby for them, adding that for the Government to maintain peace, it should have the majority of MPs supporting its programmes.

The President further stated that a sick and sleepy NRM MP is far better than an active opposition MP.

While addressing journalists during the weekly press briefing at the party headquarters in Kampala on Wednesday, the UPC party spokesperson, Michael Osinde, said the President's remarks demeaned the role of legislature.

"That has serious implications in terms of what our Parliament requires. I think he has over simplified entry to the party (NRM), those wish to join Parliament on NRM ticket can even if they cannot speak. But for us as UPC, we need people who can speak and legislate."

"The Opposition is relevant. For example, when Col. Kizza Besigye went to Abim Hospital during campaigns, it put the Government on its toes to improve the facility," he said.

"We know that some opposition MPs may be victims of sabotaging government programmes, but a dumb person can neither correct the situation. I do not know what the President meant but our concern is that to be a legislator, one has to be able to talk," he added.

This, however, is not the first time President Museveni mocks the legislators. Early this year, while canvassing support for the NRM flag-bearer Moses Kahima Mugabe in Ruhaama constituency, Ntugamo district, he alluded Parliament to a bus park, where everyone comes simply to talk, but the actual service delivery and allocation of resources do not take place there.

When asked why UPC did not front a candidate for the Jinja East byeelection, Osinde said the party failed to identify a credible candidate and, therefore, opted to focus and search further for the next general elections.

The party also dispelled claims that Robert Kanusu, who reportedly crossed to NRM, was a member of UPC.

Osinde said Kanusu had long left the party in 2015 and joined the Democratic Alliance (TDA) Party, which had been formed by former Prime Minister Amama Mbabazi.

"We do not know the intentions Kanusu has. He was a UPC member, who later defected to the now defunct TDA. He then opted to stand as an independent and never returned to UPC. I want to put the record clear that he has never returned and we, therefore, never considered him as our own," Osinde said.