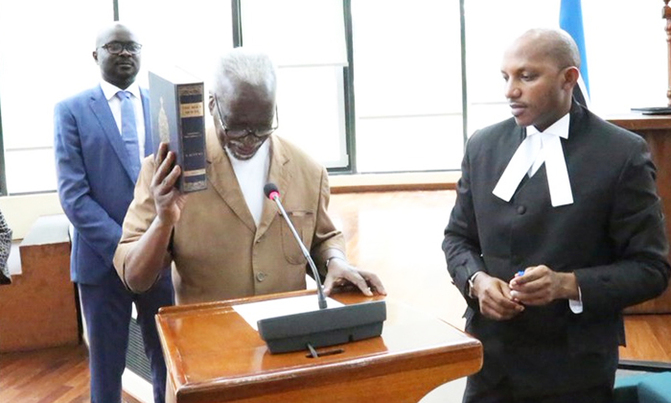 The oaths of allegiance to the house were administered in accordance with Rule 5 of the Rules of Procedure of the Assembly
PIC: Kivejinja taking oath on Tuesday. (Courtsey photo)
OATH | EALA
The Second Deputy Prime Minister and Minister for East African Affairs, Ali Kirunda Kivejinja and his Kenyan counterpart Peter Gatirau Munya, have been sworn in as East African Legislative Assembly (EALA) ex-Officio members.

The two senior ministers on Tuesday took the oath administered by the Clerk of EALA, before the EALA speaker, Martin Ngoga in Arusha, Tanzania.

The oaths of allegiance to the house were administered in accordance with Rule 5 of the Rules of Procedure of the Assembly. According to the rules of procedure, no member can sit or participate in the proceedings of the house until the oath or affirmation of allegiance to the treaty is taken.

Kivejinja was appointed to cabinet by President Yoweri Kaguta Museveni in November 2015 and then re-appointed in June 2016.

He has served in several positions in the Government. In 1986, Kivejinja was appointed Minister of Relief and Social Rehabilitation. He has also since served as the internal affairs minister. Kivenjinja, who holds a MSc in Zoology has been the senior presidential advisor for internal affairs.

He is also the author of Uganda: The Crisis of Confidence, a book about Uganda's political history.

Peter Gatirau Munya was sworn in as cabinet secretary for EAC and northern corridor in the Republic of Kenya on February 16, 2018 following his appointment by President Uhuru Kenyatta.

Prior to his appointment as cabinet secretary, Munya served as the first governor of Meru County, where he was credited with encouraging investment in sectors providing stable market to the local farming, creating employment and providing vital services to the local business community.

As governor, Munya also served as the second chairperson of the council of governors. He previously served as an MP for Tigania East Constituency in Meru County (2002-2007) and as leader of the Party of National Unity .

In December 2007, while serving his second term as MP, Munya was appointed the assistant minister for the East African Community, where he called for the expansion of roads, improvement of existing harbours and building of new ports.

Munya holds master's degree in international law (international economic integration law) from the University of Brussels in 1995. He has a second master's degree in law (public law) obtained from the University of Georgia, US. He is a holder of a bachelor of law degree from the University of Nairobi.

EALA Speaker Ngoga hailed the swearing-in of both ministers and said EALA and the region stood to benefit from their experiences.