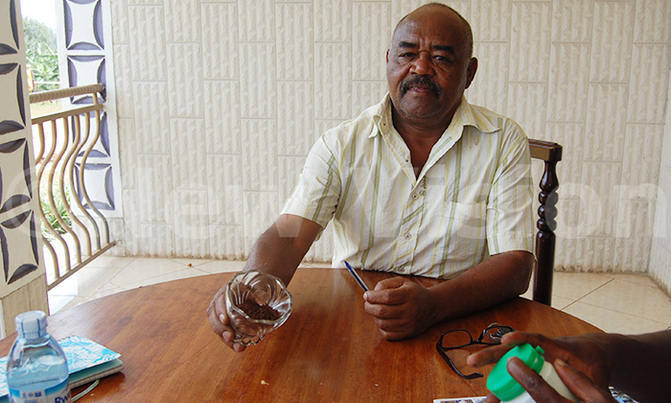 The dealers accuse the middlemen of buying coffee from the lowest bidder in disregard of quality.
PIC: Mangalija displays the coffee processed from his farm in Kasenda Kabarole district. (Credit: Wilson Asiimwe)

BUSINESS | AGRICULTURE

KABAROLE - Coffee dealers in Kabarole district have asked the Uganda Coffee Development Authority to edge out middlemen from the coffee industry, saying they deal in sub-standard coffee.

The dealers accuse the middlemen of buying coffee from the lowest bidder in disregard of quality.

They say this has forced many farmers to harvest coffee before it is ready just to earn some money from the middlemen, thus compromising the quality of coffee

The dealers are making the call following the collapse of coffee co-operatives, coupled with lack of a coffee marketing board, which has exposed farmers to unscrupulous middlemen,

Jackson Kamara, a coffee dealer in Kabarole, said lack of organised systems in which coffee can be produced, processed and marketed has made the value of Uganda's coffee to diminish.

"The quality of the coffee in Uganda has been compromised by the middlemen who are out in the market to make profits. Uganda Coffee Development Association (UCDA) should close them out," Kamara said.

Co-operatives were charged with assessing the quality of coffee, giving farm support and negotiating the price of coffee on the market.

Although there are economic gains from the coffee sector, coffee experts argue these could be doubled if the system was organised and farmers were supported in acquiring seedlings, fertilisers and disease control pesticides.

Abdullah Mangalija, a coffee processor in Kasenda sub-county, Kabarole district, told New Vision that the quality of coffee from Uganda must improve if it is to sell on the international market.

"I have a group of more than 10,000 out-growers spread across the district, but they need extension services in order for them to improve the quality of their coffee," Mangalija said.

He said his group had the capacity to produce a lot of coffee for export but has been unable to do so because of the unstable output and the poor quality of the product.

Mangalija, attributed the problems in Uganda's coffee market to lack of stringent regulations and appropriate structures. He said unscrupulous middlemen and low farm produce prices have led to a decline of Uganda's coffee industry.