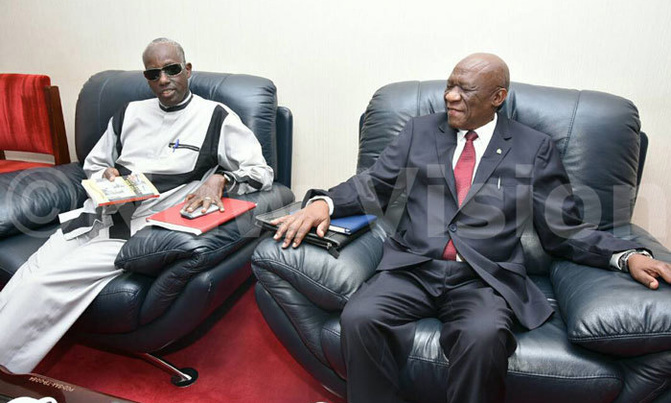 Pastor Stephen Mugambe of Kyebe Pentecostal Church, his wife Noelina Nalinya and seven other family members were murdered in one house.
The family of the slain pastor of Kyebe has appealed to the newly-appointed security minister Gen. Elly Tumwine and the new Inspector General of Police Martin Okoth Ochola to reinvestigate the gruesome murder of their pastor.

Different relatives and friends held a meeting in Kyotera on Sunday and another on Monday in Kampala to discuss new plans for fresh investigations.

According to Matia Mugambe, one of the relatives, the former IGP Kale Kayihura had recalled the file for reinvestigation, but the process took a lot of time.

"It's high time Tumwine and Ochola solved this 5-year-old mystery and bring the killers to book. Revisiting the case will serve to bridge the gaps left in the case," he says.

Pastor Stephen Mugambe of Kyebe Pentecostal Church, his wife Noelina Nalinya and seven other family members were murdered in one house.

Others were Bena Nakivumbi, Jane Nakiwala, Christine Nasimbwa, Max Nakirijja, Dan Ssemwanga, Andrew Mpeirwe and Maria Nakajugo.

The incident occurred in Mutegombwa village, Kyotera district on January 13, 2013, so far the worst of its kind in the district and entire country.

Suspects, including businessman Ponsiano Lwakataka, Emmanuel Zzinda, Asuman Muddu and Vincent Fagensi, a Tanzanian national were arrested in connection with the murder and file No. CRB O15/13 Kasensero police opened against them.

Hearing of the case proceeded in the High Court in Masaka where Muddu, the key suspect, pleaded guilty and was sentenced to life in prison.

Lwakataka and Zzinda were acquitted on December 23, 2015 while Fagensi was released a few weeks later.

In the December 23, 2015 ruling, Justice John Eudes Keitirima said prosecution had failed to prove its case beyond reasonable doubt hence freeing the suspects.

However, the family has since challenged the acquittal, saying the case was gravely interfered with by tampering with facts put across by the prosecution.

In their letter to the Director Public Prosecutions (DPP) dated 21/11/2016, it is highlighted that one of the witness Muddu, who had earlier confessed to the crime and given sentence, was later influenced to make a U-turn after his sentence.

Solomon Kakinda, who lost a wife in the incident, says he has faced hard time raising the children as a single father.

Lwakataka Appeals

Lwakataka filed a case against the Attorney General and Police officer Twaha Semanda, seeking for compensation of over sh40b.

He purportedly lost the said amount during the time he spent on remand in Masaka Prison. Lwakataka further argued that he was arrested on September 9, 2014 and maliciously prosecuted for the murder of nine people.

For the one year and four months he spent on remand, Lwakataka says his businesses suffered huge losses. He said he used to earn sh100m monthly from his fish export business, which he failed to realise in that period.