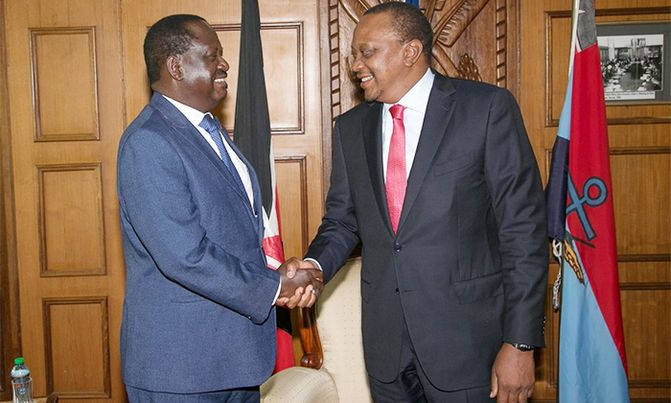 The two leaders announced the burying of the hatchet after talks at Harambee House Nairobi.
PIC: Raila Odinga with Uhuru Kenyatta at Harambe House. (Courtesy photo)

KENYA - Kenya president Uhuru Kenyatta and his long-time thone-in-the flesh Raila Odinga, who is the National Super Alliance (NASA) leader have publicly reconciled and resolved to work together in the interest of Kenyans.
The two leaders announced the burying of the hatchet after talks at Harambee House Nairobi on Thursday.
The meeting, whose agenda was not disclosed, renewed a friendship between the leaders. This was evident when their tweets went viral.
According to Kenyatta, the two "brothers" had the opportunity to hold extensive discussions on matters of Kenya.
"We have come to a common understanding, an understanding that this country of Kenya is greater thatn any one individual," Kenyatta tweeted.
On his part, Odinga said he had had pleasure of meeting his brother Kenyatta for discussions on issues afflicting Kenya and the two resolved that the future Kenya was more important than any sole individual.
The closed door meeting, which came as a surprise, resulted in the two leaders addressing the nation together and pledging to work together.
In his speech, Odinga emphasized the need for leaders to audit themselves towards the attainment of the country's goals.
He emphasized the need for unity to bring Kenya together, saying the country was had conducted its affairs in the face of growing divide along ethnic, religious and political lines.
While President Kenyatta and his vice-president William Rutto had dismissed the need for reconcilliation saying Nasa should wait for 2022 polls, the majority of members of the EU Parliament asked the two top politicians to demonstrate leadership by engaging in talks aimed at bringing the country together after last year's highly divisive General Election.
Meanwhile, NASA co-principals Kalonzo Musyoka, Musalia Mudavadi and Moses Wetang'ula said they were not privy to the discussions at Harambee House.