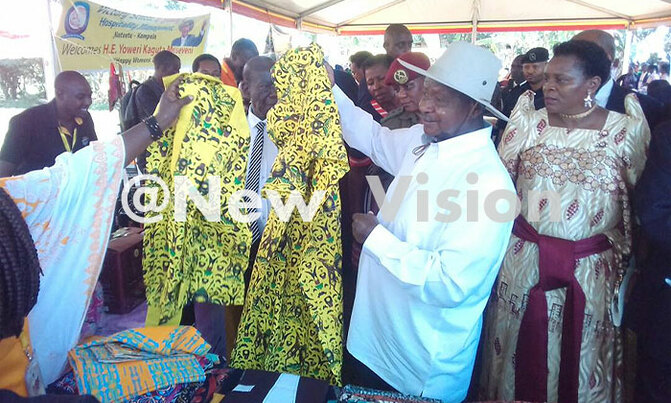 "If we empower [women], as well as the graduates, we shall have implemented two programmes: One, enhanced imports substitution, and two, enhanced exports promotion," the President says.
PIC: President Museveni checks out a product at one of of the stalls during the International Women's Day celebrations in Mityana on Thursday. (Credit: Abou Kisige)

INTERNATIONAL WOMEN'S DAY

MITYANA - President Yoweri Museveni has made a passionate push for the economic empowerment of women, in his message to the nation on International Women's Day.

In a call for economic independence, the President said wealth groups are 'banks' that can enable women create their own property. As such, he called on MPs to put aside more money in the budget for funds for women, youths, innovations, microfinance and the elderly.

Before his delivery at Busubuzi Core Primary Teachers' College in Mityana, where the national celebrations took place on a hot Thursday, Museveni visited exhibition stalls by women at the venue and pledged to support them so as to improve their products.

"If we empower such people, as well as the graduates, we shall have implemented two programmes: One, enhanced imports substitution, and two, enhanced exports promotion," he said.

The President assured ministers, MPs, religious leaders, foreign dignitaries, members of the forces and the public in Mityana that girl child education is critical in the empowerment process of women, as well as the development of the nation.

An educated and economically empowered mind, he said, will unlock a woman from an abusive spouse.

"A man who batters a woman is foolish and a coward," Museveni said, adding that some women do not report cases of abuse by their husbands for fear of being driven out to a life of hopelessness and economic desperation.

This year's global theme for the day marked every March 8 was on the rural and urban activities transforming women's rights. In line with this, Uganda chose to go with a national theme of: 'Empowerment of rural women and girls: opportunities and challenges'.

During the prayers at the start of the event, Bishop Joseph Anthony Zziwa of Kiyinda Mityana diocese called on the nation to "pray for peace and love" and to "let conflicts be solved through reconciliation (...) so that women and men live harmoniously together".

On a day to celebrate the role of women, female officers of the UPDF, Police and Prisons led the parade after the prayers, against a backdrop of instrumentals by the marching band.
Several individuals were later awarded medals in various categories.
Female army officers taking part in the march past on Thursday. (Credit: Abou Kisige)

'Zero sexual harassment'

Notable among the guests was Michel Sidibé, the Under-Secretary-General of the United Nations, as well as a delegation from Malawi.

Sidibé recalled his visit to war-torn northen Uganda during the LRA conflict over two decades ago, saying it pained him to learn of girls and women that came face-to-face with extreme brutality.

He said globally, about 30% of women are facing sexual assault and violence at least once in their lifetime.

"Let us make sure our policies will put women and girls at the centre of whatever we do. We should fight for zero sexual harassment," the Malian said.

Meanwhile, Janat Mukwaya, the Minister of Gender, Labour and Social Affairs, thanked the ministries of water, education and agriculture for their role in empowering women by bringing safer water closer to communities, educating the girl child and providing seeds to women groups, respectively.

She said if the women, youth and elderly funds are sustained, poverty will be alleviated in the near future.

On security: 'Eyes and ears' in towns

In his remarks, President Museveni touched on the security situation in the country, vowing that his government will "defeat" the current wave of urban crime.

Last Sunday, he made reforms in the top leadership of the security apparatus by replacing the Police chief and the security minister.

Inspector General of Police Gen. Kale Kayihura, after 13 years at the helm, was dropped for Okoth-Ochola, who was his deputy.

In the reshuffle, Lt. Gen. Henry Tumukunde was replaced with Gen. Elly Tumwine as security minister.

In Mityana, Museveni said the Police had been infested with "weevils", which had hurt operations, but that now, they plan to reinforce the level of security with " eyes and ears" (surveillance cameras) in urban centres and along highways.

He said already, several suspected criminals have been arrested and are undergoing trial in court. But he appeared unamused by the recent scenario, where two suspects escaped the attentions of the prisons officers and fled from court.

Museveni said such laxity is unacceptable.

'Petty tax'

Meanwhile, the President said the local government should not impose "petty taxes" on such roadside vendors as those selling plantain (gonja) and roasted meat. He said taxing such people is ungodly and can even be a curse.

He said he would get back to discussions with local government leaders to forge a way forward on the matter.