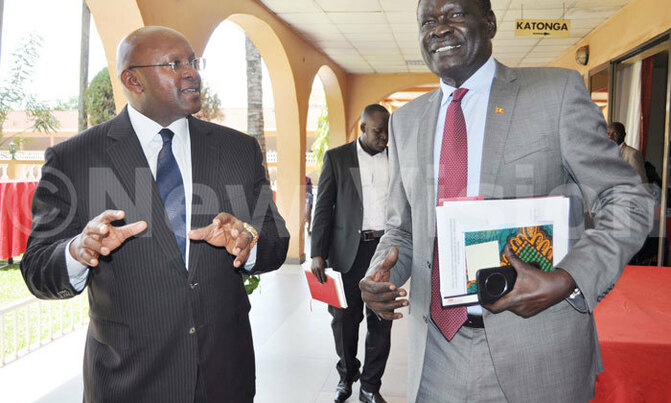 "If you do not want to help the people, leave them alone, other than getting funding to enrich yourselves. If you are working towards the betterment of the people, let your positive impact be felt on ground," he said
PIC: The Executive Director Uganda National NGO Forum Richard Ssewakiryanga (left) and the Minister for Relief Disaster Preparedness and Refugees Hillary Onek (right) interacting at hotel Africana on Wednesday. Photos by Shamim Saad
The Minister of Relief, Disaster preparedness and refugees, Eng. Hilary Onek, has attacked leaders of Non-governmental Organizations (NGOs), who spend the biggest part of their budgets on luxurious lifestyles, instead of helping the populace they are targeting.

Onek said most NGO leaderss in the country are seen driving themselves in luxurious cars like land cruisers, Benz, but their impact on ground is not seen.
The Acting Country Director Oxfam Uganda, Rose Atim, speaking during the launch
"Most of the NGO leaders are living luxurious lives as the people they tend to help live in poverty, and their impact on the ground is not felt. If you do not want to help the people, leave them alone, other than getting funding from donors only to enrich yourselves. If you are working towards the betterment of the people, let your positive impact be felt on ground by the people you are targeting," he said

He was speaking during the launch of at a humanitarian platform for local and national organizations held at Hotel Africana in Kampala on Wednesday.

The launch was attended by different humanitarian NGOs across the country and development partners under the theme "Improved transparency, accountability and coordination among local and National organizations and humanitarian sector of Uganda".
The Chief of Mission, International Organization for Migration (IOM) Ali Abid speaking during the launch
Onek said the major challenge both the local and international NGOs face are the effectiveness and efficiency, which can be reflected in the impact their operations have on the beneficiaries, which most often is not realized.
"I would wish for example to quantify the percentage of aid that goes to the beneficiary communities as compared to the NGO operational costs. In my view, 80%-90% should go to the beneficiaries and 10-20% for operations," he suggested.
"Prior to their operational programmes, the NGOs should develop a business work plan costed and submitted to the donor," he added.
The Executive Director, NGO Forum Richard Ssewakiryanga said some of the objectives of the platform is to act as a collective voice for local and national organizations to influence the humanitarian agenda at national, regional and global levels.
The platform is also to promote information sharing, learning and knowledge management for better humanitarian preparedness and response. In addition, it is also meant to strengthen the institutional and technical capacities of local and national organizations to influence the humanitarian agenda.

Ssewakiryanga revealed that so far about 40 local and national organizations in the humanitarian field have shown interest in joining the platform which will be hosted by NGO Forum.