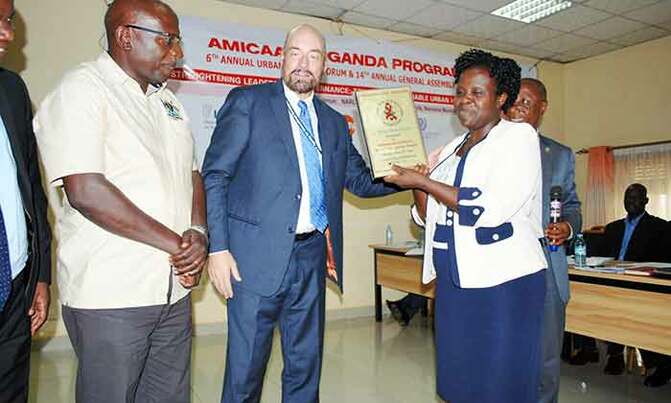 Men who are HIV positive were encourage to start on medication
PIC: Meassick handing over an award for the best urban authority to Regina Bakitte, the Mayor Nansana Municipal council. (Credit: Agnes Kyotalengerire)
HEALTH
Mayors and town clerks have been told to encourage men in their municipals to test for HIV.

"As epidemiologists, we have agreed to make sure we get all men in the age bracket of 19 to 45 tested for HIV. Encourage all men to choose life and not death by getting screened for HIV and starting on treatment," Mark Meassick, the USAID/Uganda mission director, said.

He made the remarks during the 6th annual urban leaders' forum and general assembly for Alliance of Mayors and Municipal Leaders Against HIV and AIDS (AMICAALL)-Uganda Chapter at Kawanda Research Institute recently.

The Uganda chapter of AMICCAALL engages urban leaders to prevent the spread of HIV/AIDS and to mitigate the social and economic impact of the epidemic on urban communities.

Meassick said men have poor health-seeking behaviour. He said when they fall sick they do not want to go to the clinic for treatment as they think they are strong.

Meassick said the men who are HIV positive should start on treatment because the drugs are there to keep them healthy. He said this will reduce the rate of HIV transition, especially to young girls since men in the mentioned age bracket lure them with gifts into sexual relationship.

According a 2016/2017 study, the Uganda Population Based HIV Impact Assessment, Uganda is making progress in the fight against HIV. Consequently, the HIV prevalence has reduced from 7.3% (2011) to 6.2%. HIV Prevalence is a measure of the total percentage of the population that is HIV infected.

The same UPHIA (2016/17) report indicates that by the end of 2016, Uganda had lost 28,000 people to HIV/AIDS related diseases and of these 60% are men. However, the HIV prevalence among women is higher (7.5%) than that of men (4.3%).

According to the programme modeling data of the Ministry of Health 2015, 45% of HIV infected men did not know their HIV status and 48% of those who knew their results had not been initiated on treatment.

James Titus Twesigye, the country director, AMICAALL said the organisation will continue campaigns on HIV and other health-related issues such as sexual and reproductive health, water sanitation and hygiene while bringing out the leadership role in strengthening the response.

During the assembly, Nansana municipal council was awarded for participation in the Mayors Campaign.