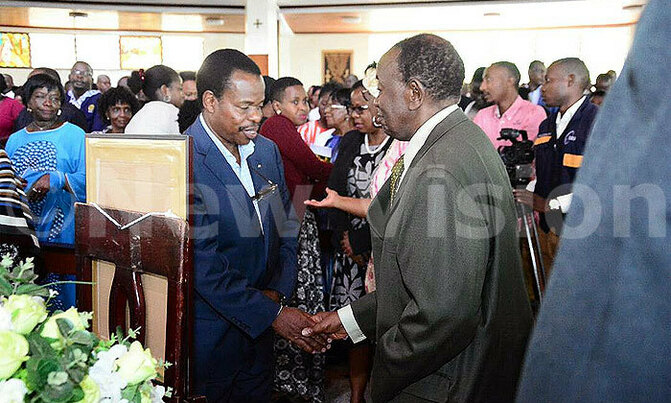 "We have gone through difficult times," John Magara tells mourners during a requiem mass in Kampala.
PIC: Susan's father John Magara (left) and family member and former minister Henry Kajura during the requiem mass on Wednesday. (Credit: Miriam Namutebi)

REQUIEM MASS | SUSAN MAGARA

KAMPALA - The father of the late Susan Magara has talked of the "difficult times" and foreboding his family has had to go through right from the time she went missing earlier this month until when she was found and confirmed dead Tuesday morning.

"We have had difficult days," John Magara told mourners inside a filled Our Lady of Africa Church, Mbuya during a requiem mass for his daughter on Wednesday.

Twenty-eight-year-old Susan, a cashier at her father's Bwendero Dairy Farm (BDF) in Hoima district, was reported missing on February 7.

Three weeks later, her body was recovered on Tuesday along the Southern Bypass at a place called Kitiko, between Kigo and Kajjansi.

It has emerged that her close family, fearing for her life, had desperately tried to secure her release from her captors.

Push for daughter's freedom

During the requiem mass, Susan's father revealed that the kidnappers first contacted his wife, and again, effectively kicking off the process of trying to secure her freedom.

Magara then asked his wife to let him negotiate with the "ordinary criminals", who kept quiet for a few days without calling Susan's parents. The withdrawal kept her family restless, fearful and anxious.
On Sunday, Magara revealed further, the kidnappers delivered two of Susan's fingers and a recording of a video.

"I delivered it to police without watching it. I asked them to tell me what was in it," he narrated. Part of the story was good (she was alive) and the other bad (her fingers had been chopped off).

'We delivered'

Later, Magara was contacted by President Yoweri Museveni, who invited him to State House. In their discussions, Susan's desperate father asked the President to allow his family meet the demands of the kidnappers.

"We delivered what they had asked for," he told mourners.

The distraught family thought their daughter would reappear. Not to be.

"She did not appear on Saturday, she did not appear on Sunday. That is when I got a feeling that something was not right," Magara said.

His instincts were, sadly, accurate. His daughter was dead. A case brutal murder.

"It gave me some relief that she was dead and we would not be looking for Susan anymore. But we live in fear now because we do not know the motive as we wait for answers," Magara said.

After Susan's body was found Tueday morning and a Police forensics team examined it, it was transferred to Mulago for a post mortem examination. Later, it was released to the family for funeral arrangements.

Police recovered an audio recording of a male they suspect to be behind the murder of Susan.

Addressing a press conference later the same day, the Police announced they had put on offer a cash reward of sh100m for any person that can "positively identify" the owner of the voice.

According to security, linking the voice to a person will provide a breakthrough in the investigations to bring Susan's killers to book.

'I was speechless'
Fr John Mungereza (pictured), the parist priest of Mbuya, told mourners during the requiem mass that Susan and her family did not deserve to go through such a difficult time.

"Let us pray for our sister, she did not deserve this, her parents did not deserve this and her family did not deserve this. May the good Lord welcome her and rest her in peace. We are with her family," he said.

"When I heard of this yesterday, I was speechless. We, as Christians, are taught not to fear death because it is part of our life. But not this kind of death," he said.

"The measure you use on others is the one God will use against you.

"I call our generation a 'fragile generation' because we think that when you get better in life, you need to work less. We are creating fragile people who want money but they are not ready to work," Mungereza said.

"I last saw this in Mexico because of the drug cartels. If we are united we will stop it. It Is evil and it will destroy us and our society.

"We have to work. God has brought us here to work. We have to work because it brings dignity to a person. We need to pray so that people who did this are brought to book," he added.
GLOWING TRIBUTES

'Respectful, loving and gentle soul'

During the requiem mass, speaker after speaker described the late Susan in glowing terms.

"Susan was not an ordinary person. She never said no to anything. She was perfect, had a lot of love in her heart and was not selfish with it," said a representative of the Rotary Club of Bugolobi, where Susan was a community service director.

"We have lost an asset, a friend and a sister. We had not lost hope through the three weeks when she was missing. What has happened as happened and we cannot do anything about it.

"We cherish you, we will remember you."

The club is planning to put up a Susan Magara Foundation in memory of the "angelic" Susan and her dedicated service and commitment to the Rotary Club.
Moments filled with laughter

Redempta Magara, Susan's young sister, said she was accommodating of all of them and that "every moment with Susan was filled with laughter".

"Susan, you are irreplaceable. We are going to miss you so much," she said.

Cindy, an elder sister to Susan, told her to "smile and laugh at your killers", in her eulogy delivered on her behalf by her (Cindy's) husband, as she is out of the country.

"You are at peace much as you have left us in pain," she added.

Cindy was also critical of the state of security in the country, asking the Government to act on the cases of kidnap and murder.

The Uganda Communications Commission (UCC), she added, should also "do their job" by ensuring that all Simcards are registered.

'Last Christmas party'

Flora Magara, Susan's aunt, told mourners of how every year the family would gather at home in Hoima for Christmas. The children would organise a party of the elders.

Last Christmas season, however, Susan told her it would be the last Christmas party she would organise.

"She was a responsible person. Her glowing smile gave us comfort that all was well. Evil has taken away a daughter, a friend and a part of us," Flora said.

Meanwhile, Lenard Magara, who spoke on behalf of the family, said they organised a church service last Monday for the then-missing Susan.

'We prayed that we would have Susan back to our home," he said.

"We worried about her. We were thinking about her."
ALSO RELATED TO THIS STORY

Museveni speaks out on Susan Magara murder

Requiem mass held for Susan Magara at Mbuya

Police offer sh100m reward to catch Susan Magara killer

Body of missing cashier found in Kigo