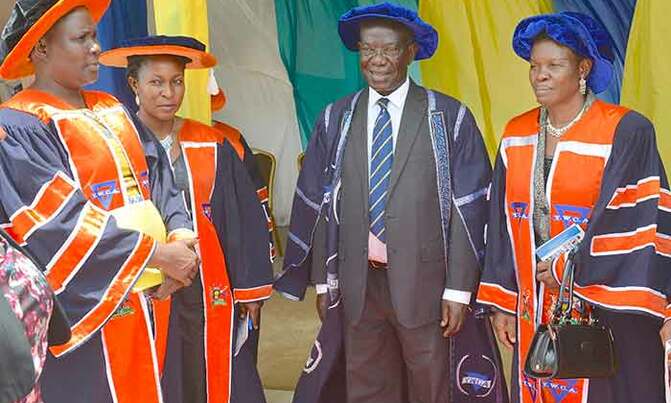 Graduates were advised to make use of the knowledge, skills and values they have acquired to contribute to the transformation of their societies
PIC: Ssekandi (second-right) interacting with YWCA Directors during the 25rd graduation at YWCA in Kampala recently. (Courtsey photo)
EDUCATION | WOMEN
KAMPALA - The Young Women's Christian Association (YMCA) Vacation Training Institute in Kampala recently held the 25th graduation ceremony.
About 428 students graduated in various fields.

Twenty-two students graduated with diplomas in hotel and institutional catering, 14 with diplomas in business administration, while others got diplomas in early childhood development, cosmetology, accounting, fashion and design among others.

In a speech delivered by the Vice-President, Edward Ssekandi, President Yoweri Museveni called upon the graduates to make use of the knowledge, skills and values they have acquired to contribute to the transformation of their societies.

Museveni encouraged students to take advantage of Government programmes such as the Youth Livelihood Programme, Women Entrepreneurship Programme and Operation Wealth Creation, to create jobs by starting small and medium-size enterprises.

He said the NRM leadership was committed in ensuring that many Ugandans attain skills that can enable them earn a living and improve household incomes.

Museveni congratulated graduates, saying today's achievement was a landmark in their lives. He urged them to be relevant to society by applying the skills they have acquired to better their lives and contribute to the socio-economic transformation of the country.

The president cautioned the graduates against wrong groups and reckless lifestyles such alcohol consumption, reminding them that HIV/AIDS is still a threat. He urged them to be responsible citizens saying the world was waiting for their services.

YWCA is a worldwide is a movement aimed at promoting rights and empowerment of young women and girls in more than 120 countries. The members include women from different faiths, ages, backgrounds, beliefs and cultures with the common goal of transforming power structures to create justice, gender equality and a world without violence and war by 2035.