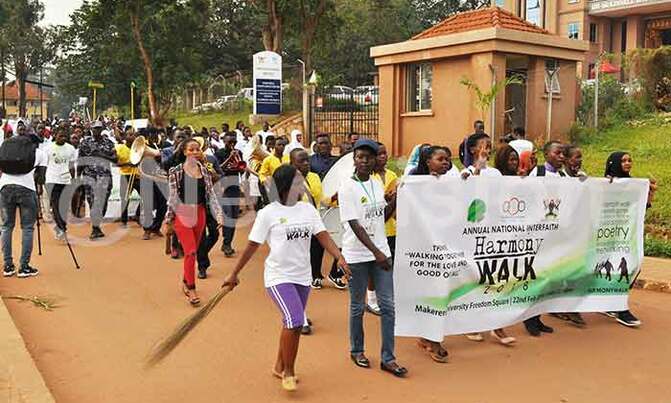 Religious leaders we told to be creative in the way they preach to the youth
PIC: Students marching during the annual national interfaith harmony walk recently. (Credit: Shamim Saad)
YOUTH | RELIGION
KAMPALA - The youth have been asked to utilise social media platforms to promote peace and harmony than violence in the country.

The executive director of Allied Muslim Youth Uganda (AMYU), Muhsin Nuwagaba Kaduyu, said social media can promote peace and encourage dialogue among people from different ethnic, religious and political backgrounds.

"If social media is well-utilised, it can affect perception on ethnicity, change attitude and promote tolerance and mutual understanding. This can bridge the division between ethnic groups to communicate with one another," he said.

Nuwagaba made the call during the annual national interfaith harmony walk held at Makerere University freedom square in Kampala recently.

He said many youth, especially university students, misuse social media and end up getting recruited by terrorists and other extremist groups.

"Extremism activities are on the rise across east Africa. The growth in terrorism and radicalism has the potential to further disrupt key developments sectors," he noted.

Nuwagaba urged religious leaders to be creative in the way they preach to the youth.

The head of department for religion and peace at Makerere University, Prof. Hassan Tugume, said through social media, young people will be able to run peace programmes and intercultural activities, such as organising multiethnic youth festivals to promote peace and tolerance.

Tugume also called upon teachers in secondary schools to come up with peace studies and topics to easily instill discipline and peace among their students.

The spokesperson at the US Embassy in Kampala, Phil Dimon, said Uganda's youth should work together towards promoting interfaith dialogue and peace.

"We are proud to partner with the AMYU towards promoting interfaith dialogue and peace. Ugandan youth must come together to support the initiative towards promoting unity," Dimon noted.

About 500 youth participated in the harmony walk under the theme "Walk together for the love and good of all".

The youth, holding placards, started the walk for the freedom square through Wandegeya, to Makerere University hospital.

The walk was aimed at creating a platform for interaction and mutual understanding between youth of different faith to improve the understanding of violent extremism and the role of religions and youth leaders.