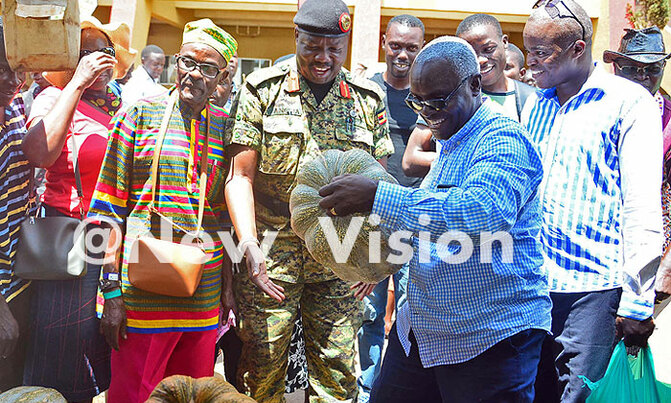 Take a look at how the second day the Harvest Money Expo 2018 transpired at Mandela National Stadium, Namboole on Saturday.
HARVEST MONEY EXPO 2018

Presented by Joseph Kizza
_______________________


4.40pm That's it for today


We have come to the end of this live page.

We will be back tomorrow for the final day of this year's expo.

Have yourselves a good evening.

4.10pm One more day


It has been a good expo so far. Human traffic is to and fro at Namboole Stadium under sweltering temperatures.

3.50pm One more day


Exhibitors will have another day (Sunday) to showcase their products and information.

It's been so far so good for the more than 100 exhibitors at this year's show.

3.30pm 'Only meat and eggs'

"Chicken will give you only eggs and meat, but it won't give you money!", you will get the money from either eggs or meat - Mr. Robert Sserwanga#HarvestMONEYexpo POULTRY TRAINING SESSION is in ROOM 3 (Kiprotich Hall)
Cc. @newvisionwire @bukeddetv @rkabushenga @JoeKats1 pic.twitter.com/v5MahSbTVA

— Vision Group Uganda (@VisionGrp) February 17, 2018
3.25pm What you are saying


Here is what you are saying about the expo on Twitter . . .
A farmer decides to capture video information on quality seed from our Early Seed Generation & Policy Coordinator Chris Muwanika during #HarvestMONEYexpo @newvisionwire @AgriProFocusUG pic.twitter.com/OfIpRRYEYO

— ISSD Uganda (@issd_uganda) February 17, 2018
Seed business development technically requires planning/visioning, planting with skill, inspections, bulking, treating of seed professionally, packaging. Inspected by @narouganda @GeoffreyOtim1 @AgriProFocusUG @newvisionwire #HarvestMONEYexpo pic.twitter.com/4BESyAyEi5

— ISSD Uganda (@issd_uganda) February 17, 2018
3.13pm Four training sessions underway


The last set of trainings are going on in four rooms.

They started 13 minutes ago and will run until 5:30pm.

Just to remind you, we are having training on markets, soil management, poultry and irrigation.

2.53pm Youngest exhibitors


So who are our youngest exhibitors this season? Vision Group's Sarah Kisakye just found them.

Meet . . .

From left: Muganga Karen Jewel (P6), Jesse Ssekatawa (P7), Jemimah Muyanja (P6) and George (P7).

The students of MST Junior Academy are putting on show their interest in piggery, fish pond farming and bananas.

The budding farmers have attracted a number of guests to their stall, including Dirk Harting, the managing director of Bles Dairies East Africa Ltd.
2.45pm Today's last training sessions up next


Phase three of today's training sessions is 15 minutes away.

We are having markets, soil management, poultry and irrigation in Room 1, Room 2, Room 3 and Room 4, respectively.

2.20pm 'Expo is a great idea'


Foreign affairs minister Sam Kutesa appeared at the Harvest Money Expo and he liked what he saw.

2.00pm I support expo - Angina


Lt. Gen. Angina: "There is a learning opportunity at Namboole Stadium for farmers, and the good news is that most farming equipment is on promotion."
1:43pm I support expo - Angina


Lt. Gen. Charles Angina, the deputy commander of the Operation Wealth Creation (OWC), says he supports the expo.
"I'm in support of the Harvest Money Expo because it is in line with what we are supposed to do as Operation Wealth Creation. We have to pull the 68% of our population out of poverty to a money solution through supporting agriculture.
1:30pm Lunch done


Been briefly away for some lunch break.

Back now.

Hope you are catching some lunch over there too.

12:25pm Juicy fruit


We are having the farm management, coffee, piggery and passion fruits training right now in their respective rooms.

Ronald Wasswa and Bashir Mayiga are the experts on passion fruits. The two have done extensive research on the juicy fruit and have maintained 45 acres and 10 acres, respectively.

12:23pm Happy exhibitors


Clearly, so far so good for the exhibitors at Namboole.

12:00pm Second round of trainings


It's noon, it's hot and the second set of today's training sessions get underway.

In Room 1:Farm management

In Room 2: Coffee

In Room 3: Piggery

In Room 4: Passion fruits

Don't forget to carry along a notebook and a pen.

11:43am Vibrant day


Keen guests, wielding bottles of water and fluids, are strolling on the hot Namboole tarmac, stopping by exhibition stalls of their interest.

Oh my, this weather!

I would recommend an umbrella, a hat or cap, and of course plenty of fluids to keep you hydrated.

11:30am Kabushenga has tête-à-tête with Seninde, Mugerwa


Vision Group chief executive Robert Kabushenga has had a tête-à-tête with minister Seninde and agriculture expert Dr Wilberforce Kisamba Mugerwa.

11:02am Minister Seninde here


Rosemary Seninde, the State Minister for Primary Education, has arrived at Namboole Stadium for the expo. She has been greeted by Vision Group CEO Robert Kabushenga.
Minister Rosemary Sseninde arrives for the #HarvestMoneyExpo and is welcomed by @VisionGrp's @rkabushenga, former Agriculture Minister Kisamba Mugerwa and Musoke Kabanda. pic.twitter.com/q0qB2DYdR8

— New Vision UGANDA (@newvisionwire) February 17, 2018
10:54am Tweeps busy


The exhibition is trending on Twitter . . .
Endokwa z'ebibala byonna osobola okuzifuna mu mwoleso. #HarvestMoneyExpo pic.twitter.com/36AsHJL45M

— Bukedde TV (@bukeddetv) February 17, 2018
10:50am Expo alive on social media


The Harvest Money Expo has been trending on social media right from the buildup, and is still topping the social media charts.

In case you don't know yet, we are using the hashtag #HarvestMoneyExpo on Twitter.
@HollandGreentec #Uganda ready for business together with our partners at #hollandvillage #HARVESTMONEYexpo Next step of horticulture! pic.twitter.com/fwxRHLL8Cl

— Maarten Hermus (@MaartenHermus) February 17, 2018
10:33am Sam Kutesa expected at expo


Foreign affairs minister Sam Kutesa is expected to attend the Harvest Money Expo today.

For now, the four training rooms are full, as guests listen attentively to the trainers, who are conducting their respective sessions with the aid of projectors.

10:10am Seeds section busy


Meanwhile, from where I am seated here at the media centre, the seeds section is right opposite our tent. And my immediate observation is that there is quite an interest in the section.

Every tent that is showcasing seeds has an average eight people checking out the products.

But I have seen some stalls really crowded.

9:30am Sun is already up


It is already a hot morning here at Namboole as the expo's second day starts to take shape. Exhibitors are already set and I can see a bunch of guests visiting many of them.

In fact, by 7:00am, guests had already checked in at the venue and started taking leisurely strolls and others having breakfast at food stalls.

9:10am First training sessions underway


The first training session are underway.

Fish in Room 1, cattle in Room 2, urban farming in Room 3, bananas in Room 4.

7:52am Who we have around


There are 10 seed companies selling genuine seed and best varieties for your farm, as well as over 30 training sessions in your area of interest, as mentioned earlier.

All the training sessions have been prepared under this year's expo theme: 'From your Farm to the Market'.

7:45am Who we have around


If you are into hydration, Davis and Shirtliff have a hand-powered irrigation system for as low as sh300,000.

The system can irrigate one acre every day.

Meanwhile, NACCRI from the agriculture ministry are exhibiting the latest seed varieties released in November last year.

7:39am Who we have around


Dfcu Bank, who disburse the agricultural credit facility to farmers, are also around.

They have a package for small-holder farmers in need of financial assistance.

7:35am Who we have around


There are a couple of things you should look out for:

Uganda Revenue Authority (URA) is showcasing opportunities for investment in the agricultural sector (tax incentives) and customer tax clinics.

ENGSOL Engineering Solutions has the smallest two-wheel-drive tractor that is viable for small-scale commercial farmers.

The Dutch Village has a delegation of agro-companies from the Netherlands exhibiting innovative agro solutions, including a mobile dairy processing plant and so much more.

7:23am Saturday training sessions


The expo features both a tour and trainings. As you check out a stall, you might also be interested in attending a training session.

There are four rooms set aside just for that.
Today, the morning session (9:00am - 11:30am) will focus on fish, cattle, urban farming and bananas.

The afternoon session (12:00pm - 2:30pm) will be on farm management, coffee, piggery and passion fruits.

Then in the evening session (3:00pm - 5:30pm), trainers will deliver sessions on markets, soil management, poultry and irrigation.

7:05am Huge opening day

Friday opened this year's edition of the Harvest Money Expo and sure to say, it was a massive start to the much-anticipated exhibition.

It promises to be even bigger today and Sunday, the final day.

In case you missed out on the opening day, check out a recap of day one HERE.

6:40am Good morning!

Well, well, well. So, here we are. We are back. It's the second of three days of Uganda's biggest farming show: Harvest Money Expo 2018.

We are at Namboole Stadium, by the way.

So how about we mint some money then?

Good morning :)