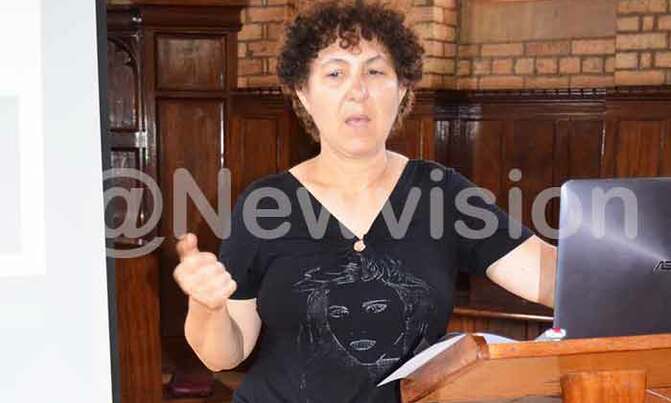 Uziel asked Ugandans to preserve their mother tongues, saying people who lose their mother tongue also lose their words, souls and vision
PIC: Dr Uziel delivering a speech during the conference at UCU. (Credit: Mathias Mazinga)
LANGUAGE
MUKONO - A visiting Professor of Linguistics from Achva Academic College in Israel, Dr Sigal Uziel -Karl, has asked local linguists, educationists and policy-makers to promote and protect the country's indigenous languages.

He said the mother tongue of a given people was their economic asset, which had to be preserved, guarded and promoted with passion.

"Further to being a cultural asset, the mother tongue also has an economic value, which rises as the number of people who speak it increase," she said.

Uziel made the remarks while delivering a lecture on the topic The language industry and mother tongue use at Uganda Christian University, Mukono (UCU).

Citing countries like the US and UK, which earn big from the language industry, Uziel called for a robust campaign to popularise and teach children their mother tongue.

"The language industry offers opportunities for jobs such as translating and interpreting documents. In 2016, the global language industry was $40b. The revenue from the North American Language Services market was estimated at $14b in 2016. In the European Union, the language Industry was 16.5b euros in 2015. The language business in Europe is also worth $12b," she said.

Uziel added that Africa is a lucrative market for translation. The rise of the Chinese population also widens opportunities for translation services.

"Since the linguistic diversity is huge, translation efforts should be directed to those languages with a wider community of speakers. Efforts should, therefore, be made to create an enabling environment in which mother tongues can be nurtured fully," she stressed.
Participants after the conference at UCU
Uziel asked Ugandans and Africans in general to take a commitment to preserve their mother tongues, arguing that people who lose their mother tongue also lose their words, souls and vision.

"Children learn fast and also understand better what they read if their written language is close to their spoken language. Children who read and write in a language that is different from their spoken language have been found to have lower rates of literacy," she said.

"It is thus absurd to think that indigenous languages are not fit to actively participate in the knowledge economy. The people of Africa must, therefore, shift their mindset about their mother tongue. Language is a lucrative economic asset that needs to be developed and marketed. A local language is a basic human need. It boosts cultural identity, economic and personal growth," Uziel said.

Dons who attended included Prof. Manuel Muranga, a lecturer of German at UCU, Dr Cornelius Gulere, a lecturer at the department of languages and literature, at UCU and Dr Constance Tukwasibwe, the head of the UCU's department of languages and literature.