Part of the expo featured training sessions on various subjects, including bee keeping, urban farming, tree planting, fishing, piggery, goat keeping, cattle and coffee.
HARVEST MONEY EXPO 2018

Presented by Joseph Kizza
_______________________


5:05pm Have a good evening!

So that's it for day one here at Namboole.

What a day it has been!

Two more days to go.

We will be back tomorrow.

Check out more pictures on what was on show HERE.
4:15pm Operating a weeding tiller

So how do you operate a weeding tiller? We have a demonstration right here at the expo.
An exhibitor shows how a weeding tiller is operated at #HarvestMONEYexpo @newvisionwire @VisionGrp pic.twitter.com/RW6SzPHvXz

— Billy P. Rwothungeyo (@Billy7Rwoth) February 16, 2018
4:10pm Exhibitors at Namboole

Felt I should remind you that there are over 100 exhibitors that have set up shop at Namboole for the three-day event.

Here is the list . . .
3:46pm Harvest Money Expo 2018 sponsors

The Harvest Money Expo is by the far the biggest farming expo you will ever be at on the land. The thousands of guests and hundreds of exhibitors at Namboole is the latest testament to this assertion.

But, to pull off an event of such magnitude, you will have to engage some firepower to help you flex your muscles better.

This year's expo sponsors are: Engsol, New Vision, Kingdom of the Netherlands, Davis & Shirtliff, Ministry of Agriculture, Animal Industry and Fisheries, Operation Wealth Creation, dfcu Bank, Tafe, Uganda Revenue Authority and Mandela National Stadium.
3:34pm 'This is how you do it'

Meanwhile, the exhibitors are busy playing host to keen guests inside their stalls.

You will find one explaining what you can do with seeds, and another trying to demonstrate how a ploughing machine works.

Some stalls are displaying herbal products.

At one stall, be sure to find an exhibitor showcasing his 'sugar daddies', a common stone-sized deep-fried confectionery made out of flour.
3:10pm Last set of trainings underway

Today's last set of trainings are going on in the four available rooms. We are having sessions on bee keeping in room 1, goat keeping in room 2, passion fruits in room 3 and urban farming in room 4.

If you are supposed to be in one of the sessions, better hurry up. Well, it's still early days, as they are running from 3:00pm to 5:30m.
2:50pm Food basket

Did you know that Uganda is potentially the largest food basket? And not only for the East African region, but also for Africa. This is largely because of the Pearl of Africa's natural gifts. For instance, Uganda is the only country in the world that has two full rainy seasons. All other countries have just one.
2:37pm Beehive of activity

Tell you what? Namboole is a bee-hive of activity as thousands of guests criss-cross each other to make it to one stall to the next, and from one training room to another.

It is human traffic here. Exhibition stalls are a constant attraction of keen visitors as the emcee's communication is every once in a while blasted through the public address system, whose speakers are placed around the stadium.


1:50pm Harvest Money book available

By the way, if you are at Namboole right now, or plan to come around on any of the three days of the expo, there is a complete guide on how to start up a farm of your choice based on expert advice in the Harvest Money book 2018 edition.

The book is available in all Vision Group stalls at sh20,000.
Meanwhile, there are 10 seed companies selling genuine seed and the best varieties for your farm.
1:25pm Touring stall after stall

Curious and interested guests are taking leisurely strolls around the entire Namboole Stadium, stopping by at stalls of interest to check out what there is on offer.

1:05pm 'From the farm to the market'

The expo will surely help you to find answers to the persistent farming challenges and equip them with adaptable skills to change their traditional mindset.

According to the organisers, the aim of this year's showing is to create farmers who are able to make good seed selections, see them through the farm, harvest and finally to the market.

The theme for this year's expo is: 'From the farm to the market'.
12:40pm Training experts - Cattle management and nutrition

Dr Jolly Kabirizi is an award-winning agriculture researcher, who finding
12:37pm Training experts - Passion fruits

Renowned passion fruits Ronald Wasswa and Bashir Mayiga have done extensive research on passion fruits, maintaining 45 acres and 10 acres of the fruit, respectively.
12:25pm Training experts - Beekeeping

As if his extensive research into beekeeping is not enough, Eliazar Nsubuga also set up an apiary training centre in Nakaseke, where people interested in keeping bees can get skills. He will be assisted by Robert Okodia, a bee keeper and honey processor who was a finalist at the Best Farmers 2015.
12:17pm Training experts - Urban farming

Harriet Nakabale is a renowned urban farmer. Her experience includes setting up her own backyard garden in Kawaala, helping set up the KCCA urban demonstration farm in Kyanja, setting up urban farms in neighbouring Rwanda and training urban farmers in the US.
12:13pm Training experts - Piggery

Dr. Emma Naluyima is a veterinary officer and farmer with priceless experience in pig farming, from breed selection and nutrition to general managament and marketing.
12:10pm Training experts - Poultry

Robert Sserwanga is the expert here. Trained in the Netherlands, Sserwanga is a poultry agronomist with vast experience. He is one of the very best poultry experts in the country, dealing in top quality seeds.
12:04pm Training experts

Of course it is important that when you come to the expo and see, you should also learn how what you are seeing is done. Undoubtedly, you can learn this from the experts.

It is the reason the organisers decided to include training in selected enterprises. Among the selected enterprises include bananas, piggery, poultry, coffee, urban farming, tips on marketing, irrigation and water for development and livestock management. Sh20,000 is being charged for the training and expo tour, but with prior booking, however, those who only prefer touring the expo are paying 10,000 per day.

Take note.
11:45am Twitter on fire

The tweeps are busy sharing the goings-on at Namboole Stadium.
AGT Laboratories showcase their Science Applications in farming at the #HarvestMONEYexpo

Banana seedlings are available at they stall. pic.twitter.com/lNrb1hVDsa

— Vision Group Uganda (@VisionGrp) February 16, 2018
11:30am Afternoon training - trees, irrigation


Today's morning training sessions are done. Next up on the afternoon programme are four different trainings on: tree planting, irrigation, bananas and farm management.

If you intend to attend, tree planting will be in Room 1, irrigation in Room 2, bananas in Room 3 and farm management in Room 4.
11:25am Expo trending

The Harvest Money Expo is trending on social media. On Twitter, we are using the hashtag #HarvestMoney2018.

Our reporter @DenisDukeUG on standby to bring you highlights, mood and interviews on what the #HarvestMoneyExpo has to offer.

Keep it Urban, it starts here. pic.twitter.com/4ULYTPm1CI

— Urban Television (@UrbanTVUganda) February 16, 2018
11:10am A one-stop centre for farming ideas

Meanwhile, whether you are an experienced farmer, agriculturalist or looking to venture into farming, you have come to the right place. The Harvest Money Expo, that is.

With more than 100 industry experts present and numerous training sessions, the expo is a one-stop centre for you to get valuable agricultural information and ideas.

So, feel free.

Oh, the entrance fee is 10,000.

If you wish to attend a training session, you will have to part with 10,000 as well.
10.55am A hot Friday


The temperatures are sweltering already. A hot Friday it is here at Namboole.

Guests are moving from stall to stall clad in light clothing.


10.50am Dutch Village


At this year's expo, there is a delegation of agro-companies from the Netherlands exhibiting innovative agro solutions including a mobile diary processing plant and so much more.


10.36am Expo officially launched

Meanwhile, a little while ago, the Dutch ambassador to Uganda officially launched this year's expo.
Ambassador to Uganda Henk jan Bakker (centre) cut the tape to launch the Dutch Village at the expo as Vision Group CEO Robert Kabushenga (right) and Pastor Robert Kayanja of Rubaga Miracle Centre (left) looked on.
10.25am Trainings


The training rooms are full.

Notebooks and pens are fully in use.

Lessons are being delivered.
9.30am Several training sessions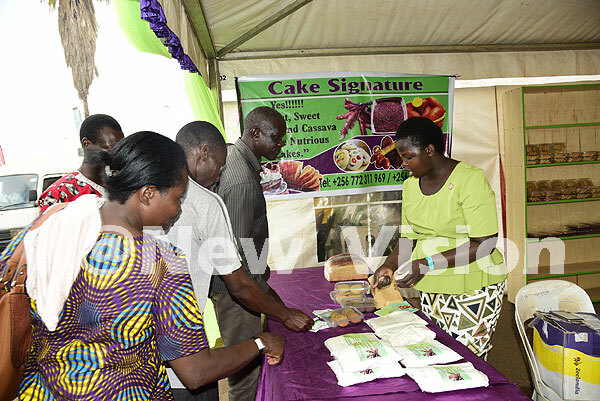 There are four training rooms for the expo.

If you are already here at Namboole, there is Room 1(small hall), Room 2 (medium hall), Room 3 (Kiprotich) and Room 4.

The first training sessions are under way (9:00am - 11:30am).

Today's morning trainings are on markets, cattle, piggery and coffee.

And just so you know, there will be early afternoon sessions as well as evening sessions.
9.10am 120 exhibitors


We have 121 exhibitors this year.

Among them are Acacia Projects Uganda, Brac Social Business Enterprise, Seedco Uganda Ltd, MAK 4 Ltd, Greening Uganda, Hangzhou Agro-chemicals, Equator Seeds and Kuku Feeds.

The list is long, trust me.

As mentioned earlier, note that we also have several training sessions.

Next up, I will tell you what the trainings will focus on.
8.47am Expo underway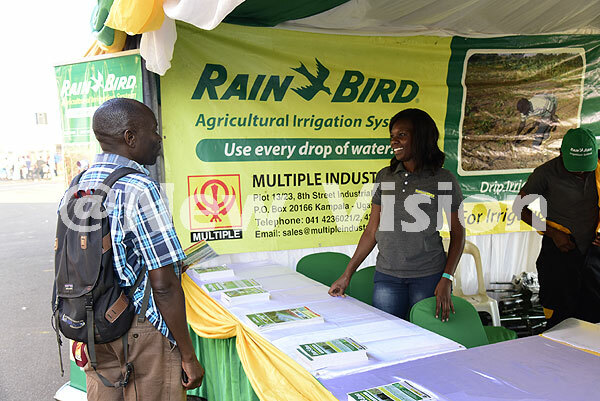 We are underway at Namboole Stadium.

You may want to know that this time round, the expo is bigger, better and more organised.

Plenty of lessons were drawn from last year's edition, which was the first ever. It is this basket of lessons that the organisers put into considering to see that the second edition is better put together.
8.35am Three days running


The Harvest Money Expo 2018 is running from today (Friday 16) until Sunday 18.

Make that three days of demonstrations and trainings all in one place.

A one-stop centre for all your farming needs.
8.20am Let's started


Hello and good morning to you all. We are live at Namboole Stadium for yet another edition of Uganda's biggest agriculture show: The Harvest Money Expo.

We are 12 kilometres away from the city centre.

Expect live text, picture and video updates from here through the course of the day . . . and the following 48 hours.