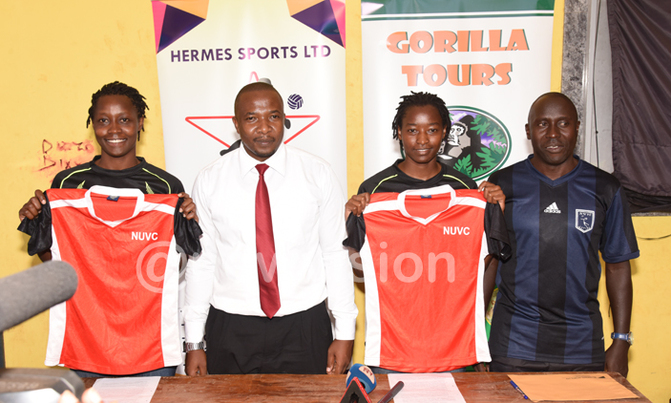 They have signed Astreede Agaba from Sport-S, Saidat Nnungi from Ndejje and Eunice Nuwabigaba from UCU.
Nkumba University Volleyball Club Coach Tony Lakony is determined to ensure his team finishes in the top ten when the Africa Club Championships (ACC) start in Egypt next month.

Lakony's trick to achieving the feat is simple. An injection of speed, power and experience is what he has orchestrated with the clubs new signings.

They signed Astreede Agaba from Sport-S, Saidat Nnungi from Ndejje and Eunice Nuwabigaba from UCU to improve the team ahead of the competition.

"First of all, these players are very experienced and we have targeted them because they are for specific needs on the team. We needed fire power we got Astreed Agaba, we needed speed we got Saidat Nnungi, we needed experience a backup setter and we brought in Eunice Nuwabigaba," Lakony said.

Nkumba qualified for the ACC after they won the national league final against VVC. Lakony pulled off the win with a young group of players who had no experiences, but made up for it with fight and passion.

"The players we had that we won the league with, are very young, very inexperienced some of them have never left the country before, so it will only help us we brought experienced players," he explained.

Lucky for the coach, he worked with all three players at some point. Agaba honed her skill under Lakony as a student at the University, while he has worked with Nnungi and Nuwabigaba in the national team.

Nnungi's speed on the court is something that dreams are made of, while Agaba adds power to the attack and Nuwabigaba comes in as a backup setter a position Nkumba need to fill up urgently.

They were lucky to go through last season with one setter but they knew going to the championships with one would have been disastrous.

The coach believes that with these additions a top 10 finish isn't out of reach for his side. Realistically finishing there in a competition that will likely have up to 24 teams from the continent would be impressive.