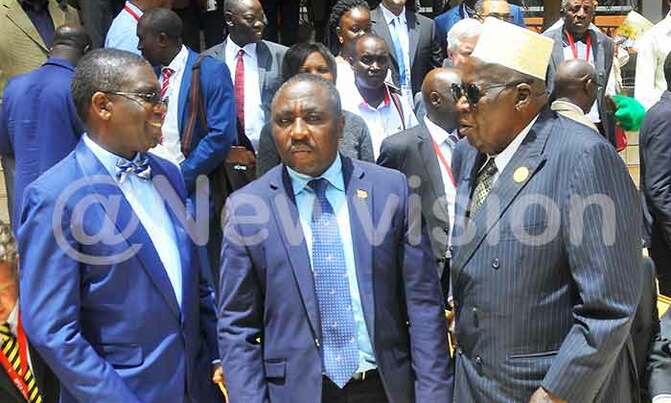 The minister urged delegates and Ugandans to attend the Harvest Money Expo, which kicks off tomorrow at Namboole stadium
PIC: Kawuma, Kibanzanga and the First Deputy Prime Minister, Moses Ali at the conference. (Credit: Wilfred Sanya)
FARMING
KAMPALA - Elites and wealthy Ugandans should embrace farming to make money, motivate the young generation into agriculture and reduce unemployment, state minister for agriculture, Christopher Kibanzanga, has said.

He said statistics show that Africa and Uganda in particular have an ageing farming population and high unemployment rate of youth at an average of 47 years and 75% respectively.

"Involving the youth in agriculture has the potential of reducing the problem of ageing farm population and increasing youth employment. This calls for securing the interest and participation of the young people. This will be achieved through a deliberate shift in policy," Kibanzanga said.

The minister was addressing local and international delegates attending a coffee conference under the theme "Sustainable coffee Industry for social and economic transformation" at the Kampala Serena Hotel.

Kibanzanga advised parents to introduce farming to their children.

"Parents should not allow their children to watch cartoons and do surfing on the internet. Children should instead google and download apps that will benefit them. My children have downloaded apps that helped them in their poultry," he said.

The delegates and exhibitors are discussing topical issues in the coffee industry. The African Fine Coffees Association (AFCA) sustainability day is sponsored by UTZ-Rainforest Alliance.

The sustainability meeting is aimed at finding solutions to challenges in coffee production. The meeting will enable farmers to interact with international coffee buyers and experts to build contacts and also create market for coffee.

Kibanzanga said coffee production has the potential to create over 500,000 jobs in Uganda annually.

The minister said with specific policies targeting the youth, farming will no longer be seen as an occupation for the peasants.

"Let Ugandans get dirty as they make money in farming. Robert Kabushenga is a lawyer, farmer and chief executive of a big media company. When you read New Vision, he is influencing all of us…" the minister asked.

The minister urged the delegates and Ugandans to take time off their busy schedules to attend the Harvest Money Expo, which kicks off tomorrow at Namboole stadium.

This year's expo is running under the theme "From your farm to the market" is organised by Vision Group and supported by several sponsors. These include Embassy of Netherlands, dfcu Bank, Davis and Shirtlif, Operation Wealth Creation (OWC), Uganda Revenue Authority (URA), Engsol and the agriculture ministry.
The First Deputy Prime Minister Moses Ali (third-left) and other officials at the 16th African Fine Coffee Conference at the Kampala Serena Hotel in Kampala on Wednesday

The Uganda Coffee Development Authority (UCDA) executive director, Iyamulemye Niyibigira, said 85% of the coffee is produced by small-scale farmers, who need to be organised for better productivity.

He said recent studies have shown that coffee is not yet a profitable commodity due to fluctuation of the prices on the world market. Iyamulemye called for policies that will ensure the coffee's sustainable production.

José Dauster Sette, the executive director of International Coffee Organisation, said without a farmer, the coffee value chain is incomplete.

"Although sustainability has three pillars, none is attainable without a farmer. For us to maintain production and sustainability, we have to go beyond the public sector and involve everybody," Sette said.

Fred Kawuma, the secretary general of the Inter African Coffee Organisation, said the global forecasts predict that the world will need 200 million bags (12 million tonnes) by 2030.

"This gives Africa an opportunity to enhance our dream and place African in the league of coffee production. We need to get our young people to love agriculture and empower women who are engaged in agriculture," Kawuma noted.

He observed the need to also support coffee scientists who deal with technology from the lab to the farm and farm to the market.