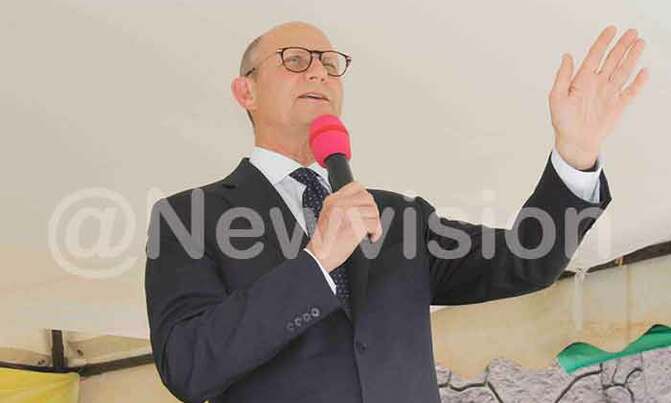 Pastor Wilson said Adventist students in secular universities should not be forced to sit exams on Saturday, Sabbath
PIC: Pastor Ted Wilson arrived in Uganda on Wednesday. (Credit: Abou Kisige)
RELIGION | VISIT
ENTEBBE - The Chief Elder of the Seventh-day Adventist Church in the world, Pastor Dr Ted Wilson, has called for total member involvement in God's work.

"I want to encourage young people and everybody in Uganda to get involved in church activities. Uganda is part of a big global family of believers and that is why I came here," he said.

Wilson was addressing journalists at Pennial Beach in Entebbe on Wednesday. He said Adventist students in secular universities should not be forced to sit examinations on Saturday, Sabbath.

"The Bible says it clearly that the Sabbath (Saturday) is the day of the Lord. We are not to engage in daily activities on that day. Forcing those observing Sabbath to sit exams is an infringement on their religious liberties. I will take it up with the authorities," Wilson told journalists.

He was responding to question raised by a journalist on the predicament Adventists students go through at higher institutions of learning.

A couple of years ago, the Constitution Court dismissed a petition jointly filed by a group of Makerere University students and Seventh-day Adventist church in Uganda on the matter. The petitioners had wanted court to declare sitting of exams on Saturday illegal.

Wilson, 67, and his wife Nancy Wilson are in Uganda on a four-day pastoral visit on a mission to impact Uganda with Jesus and encourage Adventists to priorities God's mission, which he dubbed as 'total member involvement.'

On arrival at Entebbe, the couple was welcomed by the archbishop of the Seventh-day Adventist Church in Uganda Pr. Dr Daniel Matte and Uganda Union executive secretary Pr Dr Israel Kafeero. He was also welcomed by the east and central division president, Pr Dr Blasious Ruguri and Central Uganda Conference president Samuel Kajoba.

"Let me express my appreciation to the country, President Yoweri Museveni and the regional church leadership to make me feel welcome. I am grateful for the wonderful hospitality. It is a great privilege to be here. I want to bestow God's blessing to the people of this great country," Wilson said. This is his second time to be in Uganda.

Reading from the book of Philippians, chapter 4 which says 'rejoice in the Lord always..., Wilson said Ugandans he had seen were cheerful people.
Pastor Wilson and his wife Nancy (left)
Purpose in life
He specifically urged young people to have a vision and mission in life. He advised them to always pray to God who will help them accomplish their goals.

Wilson in his short prayer after the press conference, prayed to God to grant journalists wisdom in the daily execution of their professional mandate and the occupational hazards they encounter.

"Father in heaven, I pray that you give the press creative minds to write the best stories to share with the people. Give them understanding to handle their profession and write stories that will point people to Jesus," Wilson prayed.

Responding to a journalist's question to comment about Valentine's Day that coincided with the visit, Pastor Wilson glanced at his wife and said: "I love her very much and I even reminded her this morning. Love should not be once in a year. Every day is an opportunity to live a happy life, model a family and love shared. We should not wait for Valentine's Day to show love."

Pressed to explain why Adventists do not recognise certain holidays connected to the bible, Wilson said: "When it comes to Christians' observance of certain days, the Seventh-day Adventist Church prefers to follow the simple biblical teachings."

Other activities

On Thursday morning, Wilson will speak to the youth under a theme: 'Youth connect' at Bugema, an Adventist Chartered University before flying to Lira in the afternoon and Jinja Central Church.

On Friday, he will travel to Kasese to address church members, leaders, visitors and commission a multi-billion Better Living Centre by the Seventh-Day Adventists Rwenzori Field and return to Kampala to meet President Yoweri Museveni.

Wilson is the president of General Conference based in Maryland, US. It is the governing body of the Seventh-day Adventist Church. It co-ordinates the global ministry of the Seventh-day Adventist Church and it is also responsible for the spiritual and developmental plans of the church around the world.