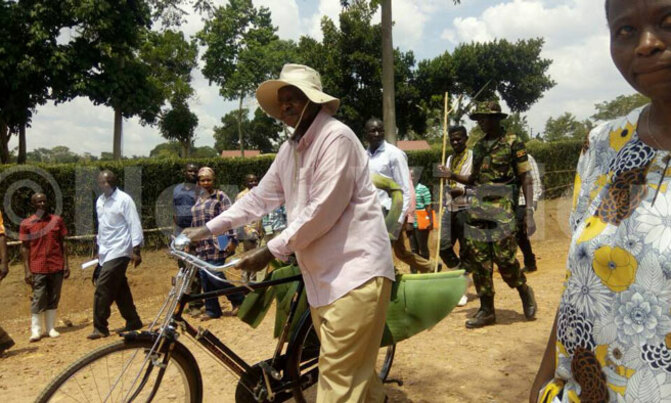 President Yoweri Museveni spent Wednesday morning harvesting his crops from his farm.
President Yoweri Musveni on Wednesday morning went to Kawumu in Luwero to harvest his crops. The crops included bananas, pineaapples and mushrooms.
Early last year, President Yoweri Museveni encouraged the people on irrigation. He used a bicycle to fetch water for that purpose. Today, he went with the same bicycle to pick his harvest.
Time for coffee: Well the President has always been seen with his stick tending to cows. He has now taken to coffee.
Diversification is the way to go: The President has a passion fruit garden as well.
The President was accompanied by a team of journalists to the farm.
He also took time to visist his cows, which are under zero grazing. The President has been an advocate of zero grazing for people with small pieces of land.
Irrigation: Climate change has forced people to start thinking about irrigation and a water reservoir is very important for any body venturing into agriculture.
Closer look: The President looks every inch a farmer as he goes through various gardens at his farm.
Poultry: The President also rears birds from which he gets eggs.
and people took to social media to comment about his farm.