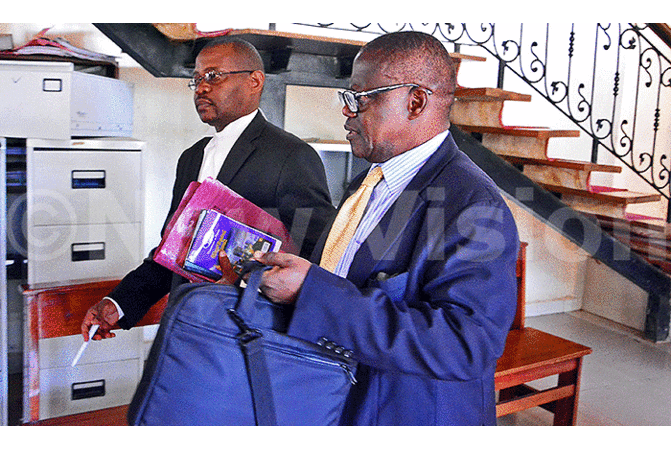 Byandala is accused of embezzling sh24.7b meant for upgrading the Mukono-Katosi road.
PIC: Abraham Byandala (right) and one of his lawyers Robert Matovu leave after court proceedings into the Katosi road embezzlement case at Anti-Corruption Court on February 13 2018. (Credit: Miriam Namutebi)


CORRUPTION | JUSTICE

KAMPALA - Former works minister James Abraham Byandala is on Wednesday slated to start defending himself over embezzlement of sh24.7b meant for the upgrading of Mukono-Katosi road from gravel to paved standard.

On Tuesday, his co-accused, businessman Apollo Senkeeto aka Mark Kalyesubula concluded his defence and told court that he never submitted the security bonds that were used to secure the contract, but he only picked them from Uganda National Roads Authority (UNRA).

The bonds were found to be forgery by the Inspectorate of Government (IG). The court was presided over by Judge Lawrence Gidudu.

Senkeeto also denied stealing sh24.7b and uttering false documents to UNRA, saying it could have been delivered by other Eutaw employees.

He said after signing of the contract in 2014, Michael Olvey went back to US and later sent his cousin, Steve Olvey, to manage the project after advance payment was paid to Housing Finance Bank account, which was opened by Richard Pratt and Tim McCoy.

"I had nothing to do with the account into which the money was paid. I was once a signatory because they needed me to write cheques," Senkeeto revealed.
Abraham Byandala (right) chats with some of his friends and relatives that came to court to attend proceedings into the Katosi road embezzlement case at Anti-Corruption Court on February 13 2018. (Credit: Miriam Namutebi)

He revealed that sh12.2b was paid to Chong Qing International Construction Corporation Uganda Limited (CICO), sh4.6b was sent to America and sh5b on equipment, including graders which were confiscated by UNRA.

He also told court that Eutaw Delaware used the working experience of Eutaw Mississippi to secure the contract.

"I was supposed to be a witness in this matter, but I was shocked when Police arrested me in 2015," Senkeeto said.

He also said he had no intention of stealing the money with his co-accused, Isaac Mugote, but said only met him after he was told by Eutaw to set up a local bank account with KCB after the contract was signed, but he later preferred Housing Finance.

Prosecution led by Irene Kimbugwe and Thomas Okoth alleges that Senkeeto uttered a false KCB bank bid guarantee for sh1.9b in support of a bid for procurement of the road upgrade.

Others accused are ex-UNRA officials Kimeze Ssebbugga, 54, Joe Ssemugooma, Marvin Baryaruha, Wilberforce Senjako and Mugote, a former Housing Finance Bank official.

Mulira makes U-turn

Meanwhile Senkeeto's, lawyer Peter Mulira, who had boycotted the court proceedings, made a u-turn and appeared in court On Tuesday.

Mulira had vowed not to appear before the Anti-Corruption Court again, claiming that its judges purportedly convict people to show the donors that they are working.