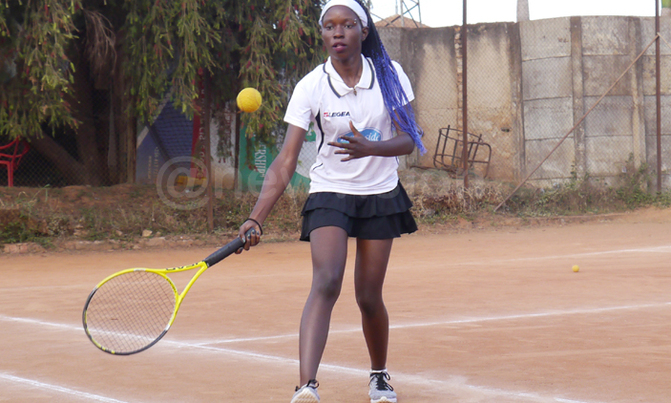 Joining Nabisunsa Girls School would act as a catalyst to her sporting side of life.
On a tennis stage dominated by males, one young girl is determined to transcend the rather ordinary tale of women tennis in Uganda; Sandra Khissa!

Having been nurtured by two parents with a sporting background; Andrew Khissa and Jenifer Namboozo, the inheritable factor came to play.

Joining Nabisunsa Girls School would act as a catalyst to her sporting side of life.

The school is synonymous with racket games and it did not take long for Khissa to fall in love with Tennis, while in senior two.

"The courts at the school were attractive, something that pulled me to the game in senior three, I started going for serious competitions and since then, I haven't looked back," she says

At the age of 18, her name "spells" gold. When the sallying player defeated Makerere University's top player Jane Frances Namagembe in the fall of last year during the University games, the bubbly teenager had won her first gold at the first time of asking.
With relatively limited attention to women Tennis, Khissa wants her illustrious story to inspire more girls, raising the standards of the game.

"You realise that men receive more opportunities than the females and of course there is less interest with the girls but I hope to make a difference" she adds

In a bid to take her game to the next level, getting a manager is high on the priority list of Khissa this year. Nonetheless she expresses gratitude towards Coaches John Oduke and Patrick Luyinda who have had a positive impact on her career.

Her success story highlights how rewarding the game has been so far; she is currently on a sports scholarship program at MUBS. Conversely, the ambitious character has traveled to different places in and out of Uganda.

The delightful youngster won at least 3 gold in secondary school and 3 in the nationals and silver in 2016 East Africa games.

Speaking of ambitions, featuring in at least one of the international competitions like US Open, Australian Open, Wimbledon and the Olympics would be the crowning achievement for the promising star.