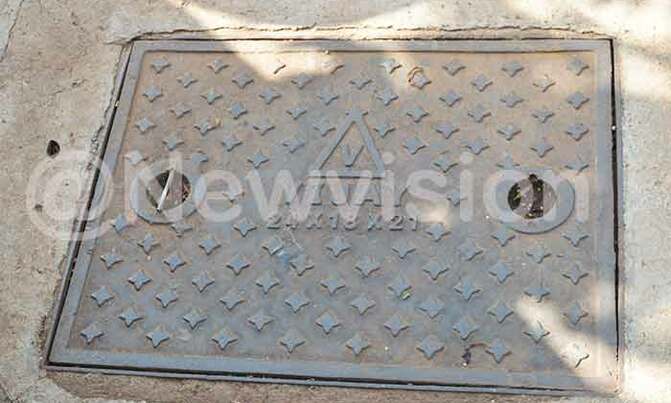 Manholes are built with an inverted slope to allow sewerage to flow by gravity in the desired direction
PIC: Cast iron manhole covers are commonly used in Uganda. (Credit: Umar Nsubuga)
CONSTRUCTION
Manholes are access units for the servicing of sewerage lines. These are sometimes called inspection chambers.

According to Abdu-Wahab Nyanzi, an architect, manhole covers are positioned at points where sewerage lines from service units such as toilets join the main sewer lines.

"They are also positioned where the sewerage line changes direction or change in level. It should be noted that it is recommended that sewer lines run in straight lines as much as possible. Any change in direction or break in the straight line could cause a blockage, hence the need for an inspection chamber," Nyanzi says he says.

Manhole covers are made in different materials such as brick, block or reinforced concrete, while others are in cast iron materials.

Atul Anand, the managing director of Crane Roofing Limited, says cast iron manhole covers are longlasting.

"They come in different sizes and shapes such as circular, rectangular, square and triangular manhole covers," he says.

Anand says for septic tanks, it is important to use the size of 600x600mm, kitchen and bathrooms 300x300mm, while for out drain covers, it can be 600x450mm.

Construction

The market has PVC manholes pre-fitted with pipes that can be used in the place of built units.

Manholes are built with an inverted slope to allow sewerage to flow by gravity in the desired direction.
Nyanzi says it is important to work with a mechanical engineer to ensure that the invert levels are done properly to avoid blockages.

What could go wrong?

According to Nyanzi, the works that can go wrong included having a bad slope hindering the flow of waste.

"Rectifying this requires laying the lines afresh. Other problems such as blockages can be easily worked upon by accessing through the manholes"

Given that manholes are in the ground, they have to be built from durable material to withstand the almost continuous dump conditions. If not done well, there is a risk of collapse.

Covers should be air-tight. Poor covers can be a sanitary risk if they are not air-tight.