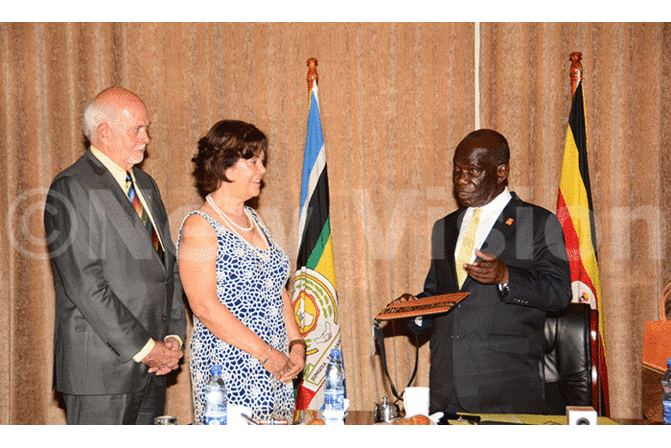 Rassin replaces Owori and will be installed in July this year.
PIC: Vice-President Edward Sekandi (right) talks to the visiting Rotary International President elect Barry Rassin and his wife Esther after they paid him a coutersy call at his office in Kampala on Thursday. (Credit: Francis Emorut)

ROTARY INTERNATIONAL

KAMPALA - The Vice-President, Edward Ssekandi, has asked visiting Rotary International president elect Barry Rassin to interest more foreign agencies about Uganda.

"You should invite more international organisations to visit Uganda because it is a pearl of Africa on top of being tourists destination," Ssekandi told Rassin in the company of his wife, Esther.

Ssekandi during the Thursday meeting at his office hailed the Rassin and the Rotary for championing the cause of helping the less-privileged in society.

He said the Government appreciates the humanitarian assistance the agency has given to support numerous communities in Uganda in the areas of water and sanitation, health and education.

"Rotary International is a favoured organisation in Uganda because it is a peoples' organisation that helps people who are in need," Ssekandi said.

On his part Rassin, commended Uganda for eradicating polio and pledged more support to strengthen Rotary clubs in the country.

"My prime focus is to ensure rotary continues to play a critical role in humanitarian assistance," Rassin said.

He informed the Ssekandi that the purpose of his visit is to pay tribute to fallen Rotary president Sam Owori.

Rassin commended Owori's passion in doing rotary work and for being at the forefront in combating polio in the country and Africa at large.

Rassin replaces Owori and will be installed in July this year.

Mike Ssebalu, the former East Africa Legislative Assembly (EALA) legislator, praised the Ssekandi for supporting rotary activities.