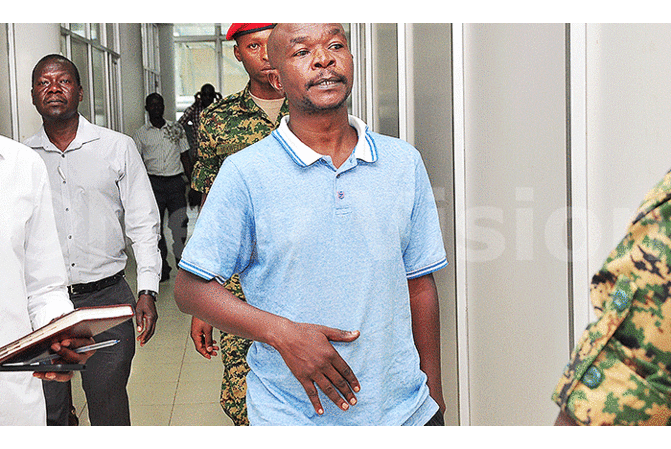 On Thursady, Justice Margret Oguli-Oumo, the deputy head, civil division of the High Court postponed the ruling to February 13, because it was not ready.
PIC: Aguma arriving in court on Thursday

JUSTICE

KAMPALA - The High Court has deferred a ruling of a case, in which the Police Professional Standards Unit commandant, Joel Aguma, is challenging his trial at the army court based in the city suburbs of Makindye, Kampala.

On Thursady, Justice Margret Oguli-Oumo, the deputy head, civil division of the High Court postponed the ruling to February 13, because it was not ready.

Aguma through his lawyers, Caleb Alaka and Evans Ochieng, says he is not subject to military law as he is a serving senior commissioner of Police, who cannot be said to be in unlawful possession of arms and ammunitions.

"The General Court Martial (GCM) acted without jurisdiction or exercised jurisdiction not vested in it when it entertained charges preferred against me and proceeded to hear it," he said.

At about 11:00am, Aguma dressed in a stripped black pair of trousers and a light blue t-shirt arrived in court in a white van, escorted by a Military Police patrol truck.

Aguma wants court to restrain the Government and its agents, including the Chieftaincy of Military Intelligence (CMI) and the UPDF Directorate of Prosecutions from investigating, disciplining and prosecuting him at the army court.

He was recently charged with kidnapping and repatriating two Rwandan nationals. His co-accused are Nickson Karuhanga Agasirwe, the former commandant of Police's Special Operations Unit, Detective Assistant Superintendent of Police James Magada and Detective Assistant Inspector of Police Benon Atwebembeire.

Others are Detective Sergeant Abel Tumukunde, Special Police Constable Faisal Katende, Detective Corporal Amon Kwarisima, a Rwandan, Rene Rutagungira (he is an army officer from Rwanda), and a Congolese, Pacifique Bahati Muhlgenga alias Ilunga Monga.

In his affidavit, Aguma says he is being punished for the offences he committed in 2013, which tantamounts to double jeopardy.

"I was suspended for two years for the same acts for which I am being charged and later the Professional Standards Unit of the Police closed the file and I was promoted to senior commissioner of Police by President Yoweri Museveni," he disclosed.

Aguma also wants court to compel the Government to release him from detention in Makindye military barracks and award him damages and costs of the case.

Last year, the army court chairman Lt. Gen Andrew Gutti declined to grant bail to Aguma on grounds that he is likely to interfere with investigations and influence witnesses. This prompted him to re-apply for bail at the High Court in Kampala.

Prosecution alleges that the nine accused persons unlawfully kidnapped Jackson Kalemera alias Ndinga and (lieutenant) Joel Mutabazi and delivered them to Rwanda without their consent. Mutabazi was a former bodyguard of Rwandan President, Paul Kagame.

Prosecution states that on October 25, 2013, at Kamengo in Mpigi district along the Kampala-Masaka road, while in unlawful possession of firearms and grenades, ordinarily a monopoly of the Uganda People's Defence Forces (UPDF), the accused persons conveyed Kalemera and Mutabazi to Rwanda.