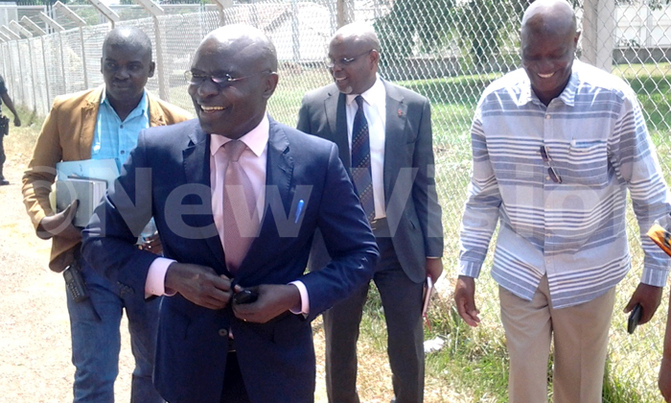 According to Byabakama, bribery has become an evil partner with elections in Uganda
PIC: Byabakama (second-left) and other commission officials arriving for the stakeholders' meeting in Jinja on Thursday. (Jackie Nambogga)

JINJA BYE-ELECTION

JINJA - The chairperson of the Uganda Electoral Commission (EC), Justice Simon Byabakama Mugenyi, has decried acts of bribery in Uganda's politics, saying they undermine the country's quality of democracy.

According to Byabakama, bribery has become an evil partner with elections in Uganda.

"But we are made to understand that bribery has become an evil partner with elections in this country, this undermines the quality of democracy," he said.

He was speaking at a stakeholders' consultative meeting in preparation for the Jinja East parliamentary by-election set for March 15, 2018.

It was attended by security operatives, civil society organisations that oversee elections, politicians, the media and aspiring candidates, among others.

It took place at the Jinja district council hall on Thursday.

However, Byabakama called for zero-tolerance to indiscipline and malpractices, including bribery of voters by candidates, their agents, friends and relatives.

He explained that bribery is prohibited under Section 68 of the Parliamentary Act.

It states that both the giver and the receiver are liable for criminal prosecution.

Unlike other constituencies such as Kagoma and Igara north seats whose results were cancelled due to bribery, Byabakama was optimistic that the nullification of the Jinja East parliamentary seat was not premised on bribery.

Therefore, Byabakama cautioned the aspirants to restrain themselves from such acts, saying they contravene the electoral laws and may lead to cancellation of election results.

"The law says an election result can be cancelled on grounds of bribery, despite the amount involved," he noted

According to Byabakama, the Jinja east polls will cost the EC sh400m to be convened.

"Can you imagine an exercise that has cost the stakeholders, including security about sh1b being cancelled because of sh1,000 or a sachet of waragi or bar of soap? Do we really have to go to the school of economics to understand that this is not tenable in economic terms?" Byamukama wondered.

He cited the Igara north election which was nullified due to a bribery of sh1.5m, but the EC spent sh500m to organise the bye-election.

He said political parties; the candidate and security agencies would incur a lot of money in such events and, therefore, called for zero-tolerance to bribery.

"Can we allow an exercise that cost about sh1b to be nullified over a sh1,000 bribe?, The exercise we are repeating is costing parties, candidates and security an excess of sh1.5b," he lamented.

Despite the EC earmarking sh400m for the Jinja East bye-election, Byabakama said the commission was going to spend more than sh500m in compensation of Mwiru's court expenses.

He wondered if what was being done was nurturing democracy by wasting government resources through what he described as 'silly' things.

He added: "Ideally, bribing a voter to me is silly, because the repercussions are so huge if evidence is laid to prove that there was bribery.

Much as the commission levies nomination fees from aspiring candidates, Byabakama said they do not use the said monies as it goes to the consolidated fund.

Instead, he said, they get money from the treasury to organise the polls.

"The choice goes to the people of Uganda, whether we have to keep this kind of business, where we see resources going to waste because of our own deliberate misdeeds," he said.

Byamukama assured residents that incidents of bribery and violence would not occur in the pending Jinja east bye-election.

He cited Aruu north in Pader, where violent supporters disrupted a recount of vote exercise, which ended prematurely.

Byabakama said if the people had allowed a recount, EC would not have spent sh500m to hold a bye-election, but there was non-compliance with the EC law regarding vote recounting.

"That was money put in a democratic process and when one looks at the whole process, it was the indiscipline of our people," he noted.
Byabakama urged stakeholders to own the exercise as they were merely midwives aiding the delivery of a baby.

"This is your baby, ensure that there is no manyanga (disruption), an election is primarily built on the law which is the basic foundation of a democratic process and if we veer off that, then our structure will crumble down," he urged.

Therefore, he noted the need to sensitise people on their roles to ensure that Jinja east does not go back to another bye-election as it would be an insult.
"When others have representatives in Parliament, Jinja will be going for another bye-election and is that a service to the people," he asked.

He called for a peaceful process to avoid what he described as 'overdose' deployment of the Police.

"We cannot have an election without Police, but the level of deployment is determined by our conduct, if it is peaceful, law abiding and tolerant, you won't see those ugly looking equipment," he said.