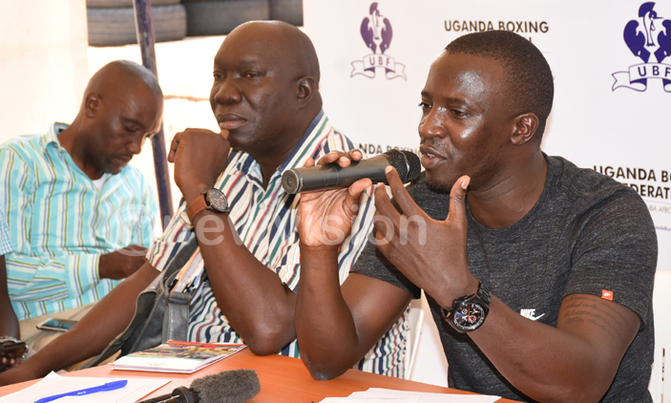 Muhangi said he will account for every penny that gets into the federation.
Five point program,

-Accountability

-Structures

-Transparency

-Discipline

-Exchange programs

Uganda Boxing Federation president elect Moses Muhangi has unveiled a five point programme that he believes will boost the sport's fortunes.

"Accountability, proper structures, transparency, discipline and exchange programs is what will revamp the sport," stated Muhangi.

Speaking at his first press conference since being elected, Muhangi on Tuesday stressed that he will account for every penny that gets into the federation.

"Such transparency is what will endear us to the general public especially the corporate world."

Muhangi, flanked by his executive, also used the occasion to unveil a fully furnished federation office at the Lugogo MTN Arena in Kampala.

"A fully operational office will be key in setting up structures. These will include a marketing committee whose key assignment will be search for sponsors."

He also stressed that national team selection will be purely on merit.

"That's one of the ways of boosting quality. And with quality we shall be able to attract sponsors. No sponsor wants to be associated with losers."

Muhangi also called for discipline in the respective clubs. "We should all operate well aware of the fact that the image of the sport is built on discipline."

"This issue boxers being caught in theft cases and then UBF Patron Godfrey Nyakana or me being called to rescue these boxers must stop."

He urged the entire boxing family to forget election differences and work as a team.

The conference comes at a time when a section of the boxing fraternity is contesting the electoral process that brought forth Muhangi.

Led by a section of former executives, referees and coaches the complainants insist that the federation's constitution was not followed.

They have accordingly appealed to world boxing body AIBA, Uganda Olympic Committeed and the Education and Sports Ministry.