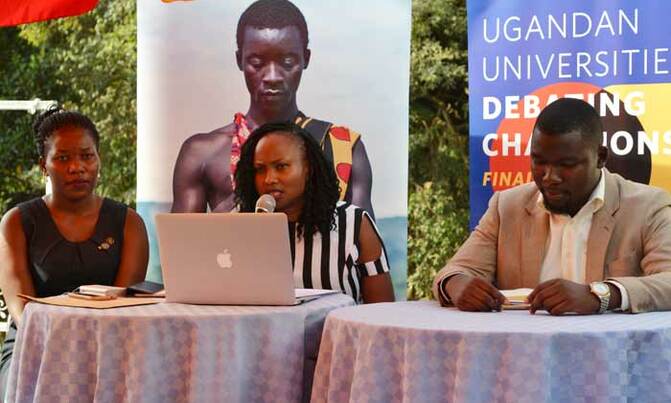 These include; Makerere University, Uganda Christian University (UCU), Makerere University Business school and Kyambogo University.
PIC: Kwoshaba addressing the participants. Looking on are judges of the debate

KAMPALA - Four universities are set to compete in a debate tournament that is slated to take place on Friday February 9.

These include; Makerere University, Uganda Christian University (UCU), Makerere University Business school and Kyambogo University.

According to Charity Kwoshaba, business development manager of Mobinet Group, a Hong Kong-based fintech company, this flagship event is aimed at providing a platform for young people to share their perspectives on some of the issues surrounding financial technology and its impact on the future of the Ugandan financial sector.

It will be held at Pearl of Africa Hotel under the theme Harnessing youth voices for financial inclusion.

"With the country's vast student population Mobinet decided to partner with Interswitch, another company to come up with such a historical tournament," notes Kwoshaba.

The winners will be awarded various prizes, including all-expenses paid trip for the top two teams to some of the world's most desired destinations. They will have to decide between Dubai and Singapore.

Additionally, the debate will be attended by over 250 students, dignitaries from the corporate world and government, as well as notable institutions within the country.

It will be chaired by Jacob Eyeru of the Uganda Debate Society using the gold standard pritish parliamentary format of Debate.

Andrew Otiko, Mobinet CEO upholds that the impact of fintech in improving the lives of many people across Africa cannot be underestimated.

"It is vitally important to tap into the views of the next generation of users of this technology who will be instrumental in shaping the next wave of fintech and promoting greater financial inclusion for all," he explains adding that they are committed to improving financial inclusion within the Ugandan market and changing the landscape for the provision of financial services within the country.

Kwoshaba says that discussions which will highlight the inclusive access to formal financial services is essential for the sustainable development of individuals, businesses and the economy of Uganda.

Meanwhile, Financial Technology commonly referred to as 'fintech' is one of the world's fastest growing investment areas.

Otiko notes that in 2017, Africa recorded over 500 innovation startups, ranked 3rd behind Asia and Europe, in ventures designed to increase financial inclusion within developing economies with high levels of unbanked and under-banked citizens.

"In the Ugandan market, financial inclusion remains a big challenge with just 55% of all adults having access to formal financial services; of which 11% gain access through traditional bank branches and over half through Fintech enabled services," he urges.

Otiko stresses that the necessity to connect all 'unbanked' and 'under-banked' Ugandans to financial services cannot be overstated because it catalyzes capital exchange in the economy which in turn provides foundation to trade growth and consequently economic development.