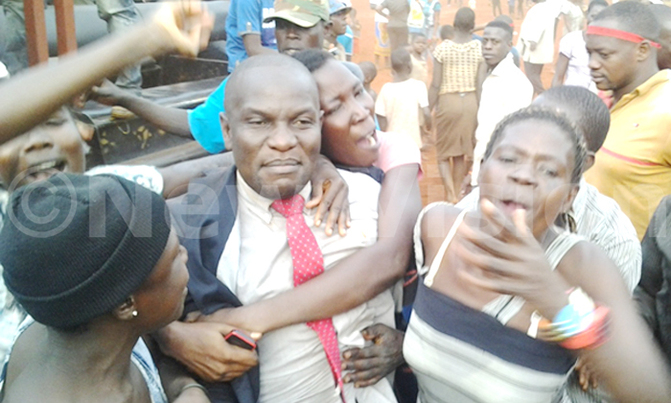 The seat fell vacant after the Court of Appeal nullified the election of Nathan Igeme Nabeta of the ruling National resistance movement (NRM), describing his victory as falsified.
PIC: Paul Mwiru celebrating victory over Nabeta in Jinja district

POLITICS

JINJA - At least eight people have so far expressed interest to vie for the Jinja east parliamentary seat in the forthcoming bye-election.

The seat fell vacant after the Court of Appeal nullified the election of Nathan Igeme Nabeta of the ruling National resistance movement (NRM), describing his victory as falsified.

A panel of three justices led by retired deputy Chief Justice Steven Kavuma ruled that results of one of the polling stations were inflated, which in turn affected all results of the constituency.

Igeme had appealed a decision by Justice Lydia Mugambe of the Jinja High Court, who had overturned his victory, declaring Paul Mwiru of the Forum for Democratic Change as the rightfully elected legislator.

Mwiru dragged both Nabeta and the Electoral Commission to court for falsifying the poll outcome, which favoured Nabeta's way to Parliament.

He argued that results from Danida A-D community polling station in Walukuba/ Masese division were inflated, giving his opponent victory.

Mwiru said the original declaration forms which he gave a copy to the Police indicated that he polled 226 votes, while Nabeta had scored got 187.

He explained that a forged declaration form indicated that Nabeta had scored 507 votes while those of Mwiru were maintained at 226 was used in the declaration of results.

Earlier results indicated that Mwiru was leading with a margin of 191 votes with 8,086 (50.60%) votes against Nabeta's 7,895 (49.40%).

However, the Jinja district returning officer, Ambrose Mwaita, declared Nabeta winner with 7,770 votes and that Mwiru had procured 7,635.


Since Nabeta's ouster, a number of candidates, including his former political aide, Faisal Mayemba (pictured left), have expressed interest in the seat.

The 34-year-old Mayemba, a businessman in Jinja municipality will also be contesting as an independent candidate.

Mayemba says he will lobby for sports promotion, which he says employs the youth.

Regina Nakawooya, a former councillor of Walukuba east parish, also a staunch NRM supporter, said they were tired of endless court cases against Nabeta and bye-elections, adding that it was time to support a candidate whose credentials they were sure of.

Asuman Kembo, the youth councillor for Jinja central division (NRM) is confident that Mayemba will promote unity.


Nathan Igeme Nabeta (NRM card)
When contacted, Nabeta cleared the air, saying he was the NRM flag-bearer and still interested in the seat.
He said the endless court battles had failed his desire to serve his people.

Regarding supporting the removal of the age limit for presidential candidates without consent of his electorates, Nabeta said this was the position of the NRM caucus.

Constituents accuse Nabeta of giving false information in Parliament that they were in support of the removal of the age limit presidency, which was allegedly the contrary.

Moses Nagaya (Independent)
He is the sub-county chief in Buikwe district.

Nagaya, who has lost the seat on several occasions boasts of a degree in social administration from Busoga University and a post-graduate diploma in public administration from Uganda Management Institute.

Andrew Ikoona (Independent)
The 28-year-old holds a degree in
information technology from Makerere University. The poor road infrastructure and health facilities will be his focus.

Christine Abuze (Independent)
The former Jinja district woman councillor representing Jinja east declared her interest.
Much as she FDC-leaning, Abuze considers herself the voice of the area.

Phillip Bwambale Mabunda (Independent)
The 60-year-old former Walukuba/Masese LC3 chairperson is also NRM chairperson for the division.

He cites lack of service delivery in the area, saying their MPs do not return home upon election, which has created a gap between the Government and the electorate.

Paul Mwiru (FDC)
The FDC party has maintained Mwiru as its flag-bearer.

According to Abubaker Maganda, the Jinja district FDC chairperson, they want to maintain their candidate because he has the potential of taking on NRM.


Meanwhile, Oliver Kyotakoze (pictured left), a nurse based in the UK has also been heard expressing interest for the slot.

According to the roadmap announced by the Electoral Commission chairperson, Justice Simon Byabakama, nomination of candidates takes place from February 13 to 14.

Campaigns are slated for February 19 to March 13, while elections will be held two days after.