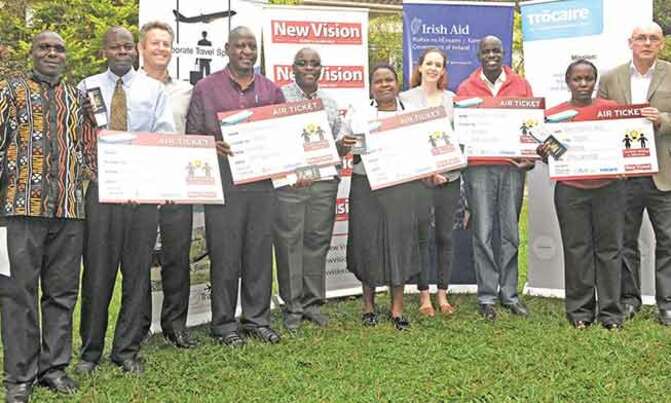 The five winners were among the 12 teachers recognised for their outstanding contribution to the learning of students in Uganda.
PIC: New Vision features editor John Eremu, Godfrey Arims (teacher), Declan Peppard, Martin Kananura (teacher), Robert Kabushenga, Prossy Muyinda (teacher), Eimear McDermott, Emmanuel Angoda (teacher), Mary Gorreti Akwii (teacher) and Ian Dolan, after flagging off teachers to Ireland on Saturday. (Credit: Godfrey Kimono)
EDUCATION | IRELAND
KAMPALA - Five outstanding teachers for the 2017 Teachers Making a Difference competition have gone to Dublin, Ireland for a one-week learning tour.

The lucky winners are Godfrey Arims from Lemusu Primary School in Nakapiripirit; Martin Kananura, Mbarara Municipal School in Mbarara district and Prossy Muyinda from Victoria Junior School in Namutumba district. Others are Mary-Gorreti Akwi from Nakivale SS in Isingiro district and Emmanuel Angod, a teacher at Lira Town College in Lira district.

The teachers were flagged off on Saturday morning by Eimear McDermott, the Second Secretary at the Irish Embassy at the embassy headquarters in Kampala.

Trocaire country director Ian Dolan, Simba Travelcare manager Declan Peppard and Vision Group chief executive officer Robert Kabushenga attended the event.

The Teachers Making a Difference project is sponsored by the Irish Embassy, Simba Travelcare, New Vision and Trocaire.

"We value the importance of education because it has helped Ireland to develop. I am excited that these teachers are flying to Ireland where they will interact with fellow teachers and learn from each other," McDermott said.

Dolan expressed his pleasure for having been part of the project, which aims at improving the teachers' capability. He promised Trocaire's continued support towards the project.

Declan commended teachers for excelling and urged them to also empower others.

Kabushenga highlighted the importance of teachers' education and how Irish-established schools are among the best in Uganda.

He urged teachers to go to Ireland with an open mind ready to learn and improve their teaching skills.

Kabushenga noted that although Uganda has minerals such as oil and gold, without education, all is nothing.

"You can have minerals but if the children are not educated, you will never see development. That is why as New Vision, we value teachers and education," he said.

The five winners were among the 12 teachers who were awarded for their outstanding contribution to the learning of tudents in Uganda.

This is the first time the winners are travelling abroad to study the Irish education system. Previously, each of the winners would get a cash prize of sh1.5m, a plaque and certificate.

Teachers Making a Difference is part of the Ugandans Making a Difference project initiated by New Vision in April 2008. The project aims at recognising and rewarding individuals who have innovatively used limited resources to have a positive impact on their communities.

New Vision has always implemented this project either singly or in partnership with institutions that share similar objectives.