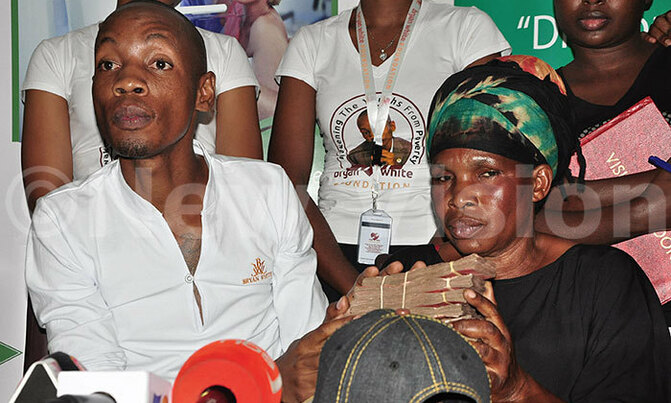 "My son has been on breathing with the help of machines, but now he can breathe on his own," says Radio's mother, Jane Kasubo.
PIC: Socialite Bryan White (left) handing sh25m to Radio's mother Jane Kasubo (right) to clear part of the hospital bills at Case Hospital on Friday. (Credit: Ashraf Kasirye)

INVESTIGATION

KAMPALA - The mother of hospitalised Goodlyfe Crew singer Moses Ssekibogo, best known as Mowzey Radio, has said his condition has improved and that he can now breathe on his own.

Jane Kasubo, told a press conference at Case Hospital on Friday that "some bad people" have been circulating "wrong information" about her son's life. She said doctors told her Radio has been getting better since undergoing surgery on Tuesday a day after being attacked at a bar in Entebbe.

"My son has been on breathing with the help of machines, but now he can breathe on his own," she said.

Radio, who sings alongside Douglas Mayanja, aka Weasel, was reportedly the victim of a late night attack at De Bar on Monday.

Since the attack, unofficial news about the singer's health has been as mixed as the circumstances around which he sustained serious head injuries that limited him to life support.

Arrests have since been made, including the of the manager of De Bar, according to Police.

'Good heart'

Meanwhile, as fans and wellwishers continue to send get-well-soon messages to Radio, his mother will feel an even stronger sense of hope after socialite Brian Kirumira, best known as Brian White, visited the bedridden musician on Friday and cleared some of his hospital bills.

He handed sh25m to Radio's mother Kasubo and pledged more support to the artiste's family.

White was accompanied by several musicians, including Weasel, Jose Chameleon (Weasel's brother) and King Micheal, who thanked the socialite for supporting people in need.

"Our brother, thank you for the good heart. You have always been there for all of us and may God bless you with all your wishes," Chameloon said.

On his part, Micheal said: "Uganda needs youths like you, Bryan White, to get money because you are ready to share it with others in need."

An emotional Radio's mother wiped off tears as she hugged White and thanking him for helping them.

Meanwhile, a woman who claims to have witnessed the fight at the bar narrated to New Vision what reportedly happened. Read what she said HERE.


ALSO RELATED TO THIS STORY

Musician Radio attack: Woman narrates ordeal