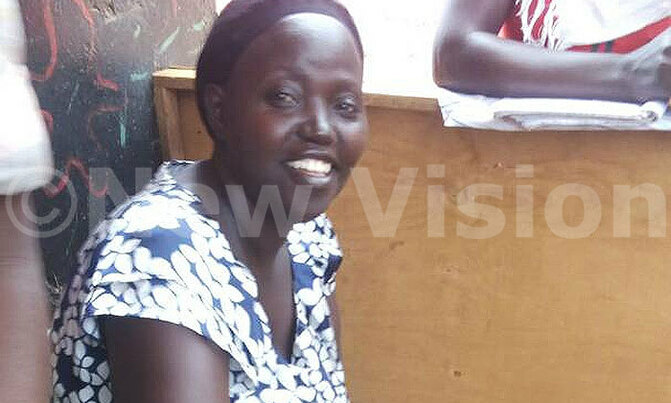 She says a misunderstanding developed between Radio and the manager of the bar, which resulted into a stand-off between the two.
PIC: Pamella Musiimire claims she witnessed the Monday night fight at De Bar in Entebbe. (Credit: Ssempijja Godfrey)

INVESTIGATION

KAMPALA - A woman, who claims to have witnessed the fight at a bar in Entebbe where musician Mowzey Radio was attacked Monday night, has narrated to New Vision what reportedly happened.

"Radio came to the bar in the company of producer Washington and a one Frank," Pamela Musiimire said.

"Later, George Egesa, the manager of the De Bar, and Hassan Muwonge, the supervisor, joined us and everyone was having fun."

But a misunderstanding later developed between Egesa and Radio, which resulted into a stand-off between the two, she added.

According to Musiimire, the two men were restrained from fighting. However, as Radio was walking out, an unidentified man wearing a white T-shirt and blue pair of shorts grabbed the musician, lifted him and threw him to the ground.

Radio of the Goodlyfe Crew, whose real name is Moses Ssekibogo, would later be rushed to hospital for medical attention.

It turned out that he had got severe head injuries and had to undergo an operation at Case Hospital in Kampala, as Police investigations began.

'Closer to main suspect'

Meanwhile, the Police are holding two suspects in connection with the attack at the bar, which is located in Entebbe municipality, Wakiso district.

Police spokesperson Emilian Kayima confirmed the arrest and identified the suspects as bar manager Egesa and a one Xavier Rukere.

They are being held in relation to charges of assault and causing aggravated harm. The two are believed to have been present at De Bar on the night when Radio was beaten.

"The main suspect is still at large, but our investigations are bringing us closer to him and he will be netted soon," Kayima noted.

According to Police investigations, during the scuffle at De Bar, a bar attendant lifted Radio and threw him down, hitting his head.

Musician 'stable'

Radio remains hospitalised at Case Hospital, although very little is known about his state of health.

An official at the health facility told New Vision on Wednesday that the musician was "stable" and "out of danger".

Abel Kidde, the hospital's operations manager, did not reveal much though, citing the family's request for privacy.

The previous day, one of Radio's friends, who had preferred anonymity, had said Radio's family had stopped doctors from revealing the status of their patient, although his condition was worrying".

Radio sings alongside Douglas Mayanja, aka Weasel.


ALSO RELATED TO THIS STORY

Mowzey Radio is 'stable', hospital says