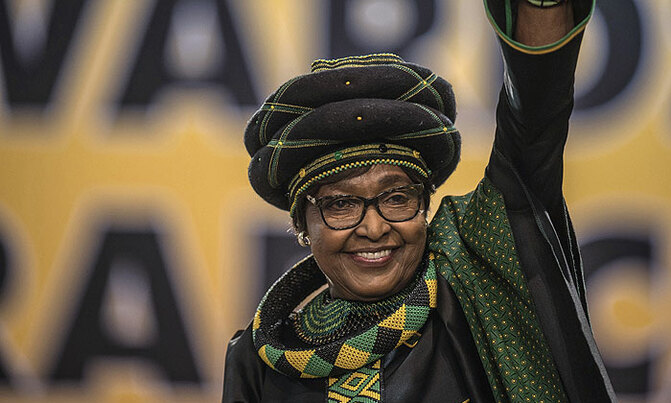 The 81-year-old anti-apartheid hero and ex-wife to Nelson Mandela was only recently awarded an honorary degree by Makerere University in Kampala.
HEALTH

South Africa's Winnie Madikizela-Mandela, who is popularly known as "the mother of the nation" has been admitted to hospital with a kidney infection, the family of her ex-husband Nelson Mandela said Tuesday.

Winnie, 81, is an icon of the anti-apartheid struggle and was persecuted by authorities during white rule, going on to hold a ministerial post after democratic elections in 1994.

The development comes only days after she was awarded an honorary doctorate of law by Makerere University in Kampala. She was not present, but her niece, Gandhi Baai, received the award on her behalf on Friday, the final day of the university's 68th graduation ceremony.

More than 14,000 students received degrees at the week-long function.
South African High Commissioner to Uganda Lekoa Solly Mollo (right) and Winnie Mandela's niece Gandhi Baai at Makerere University's 68th graduation ceremony in Kampala last week

"The Mandela family wish to inform the public that Mrs Winnie Madikizela-Mandela has been admitted to the Milpark Hospital" on Sunday, said the statement.

Nelson and Winnie were wed in 1956 and divorced in 1996.

Nelson Mandela was arrested in 1962 and spent 27 years in jail before becoming South Africa's black president in the post-apartheid elections.

"She is expected to make a full recovery and should spend approximately a week at the hospital. She is constantly surrounded by family and is in high spirits," the statement added.
ALSO RELATED TO THIS STORY

Makerere awards Winnie Mandela honorary degree