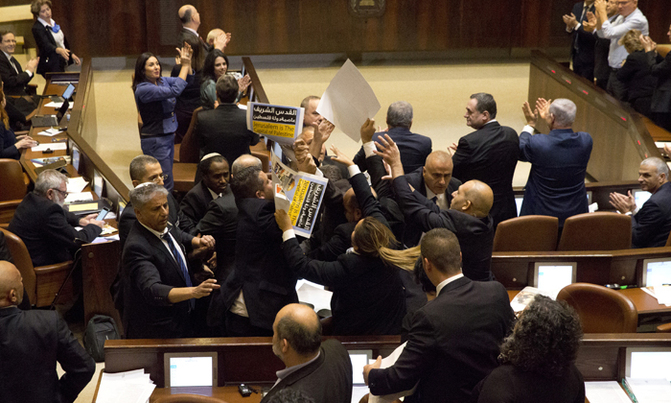 It has been a series of violent protests in various countries.
PIC: Israel's Arab parliamentary bloc and Knesset members hold signs in protest as security members scuffle with them during the speech of US Vice President Mike Pence in Israel's parliament in Jerusalem, on January 22, 2018.(AFP)

Below are the main developments since the controversial decision by US President Donald Trump to recognise Jerusalem as Israel's capital:

Shockwaves
In a speech from the White House on December 6, 2017, Trump says recognising Jerusalem as the Israeli capital marks the start of a "new approach" to solving the Israeli-Palestinian conflict.

"It is time to officially recognise Jerusalem as the capital of Israel," he says, breaking with the policies of his predecessors and outraging Palestinian leaders.

He orders preparations to relocate the American embassy from Tel Aviv to Jerusalem.

Palestinian president Mahmud Abbas says Trump's moves "deliberately undermine all peace efforts" and says Washington can no longer play the role of peace broker.

The US initiative prompts a wave of criticism around the world, while Israel's Prime Minister Benjamin Netanyahu hails Trump's move as "historic".

On December 7, Palestinians clash with Israeli security forces and a general strike is broadly followed in the occupied West Bank and east Jerusalem.

'Rage'
On December 8, Palestinians are called to follow a "day of rage" in Jerusalem, the West Bank and Gaza Strip.

In their thousands they face off against Israeli soldiers and police. Two Palestinians are killed and dozens wounded in clashes.

Demonstrations are held in several Arab and Muslim countries.

At the United Nations, envoys from Britain, France, Germany, Italy and Sweden say Trump's move is "not in line" with UN Security Council resolutions and is "unhelpful in terms of prospects for peace in the region".

US ambassador Nikki Haley says Trump has not taken a position on the region's borders.

On December 9, two members of the Palestinian Islamist movement Hamas die in Israeli air force raids in response to rocket fire from the Gaza Strip.

Abbas's Fatah party urges Palestinians to "keep up the confrontation and broaden it to all points where the Israeli army is present" in the West Bank.

Meeting in Cairo, Arab foreign ministers say the United States has in effect "withdrawn itself as a sponsor and broker" of the Israeli-Palestinian peace process.
US President Donald Trump

East Jerusalem
On December 13, Muslim leaders call on the international community to recognise east Jerusalem as the capital of a Palestinian state, at a summit of the Organisation of Islamic Cooperation in Istanbul.

On December 15, four Palestinians are killed in clashes with Israeli forces as tens of thousands demonstrate against Washington's recognition.

A total of 18 Palestinians and one Israeli have been killed in violence since Trump's declaration.

US veto
On December 18, the United States vetoes a draft UN resolution rejecting Trump's recognition of Jerusalem, after all 14 other Security Council members back the measure.

The UN General Assembly on December 21 overwhelmingly adopts a resolution against the US declaration.

On December 24, Guatemala announces transfer of its embassy to Jerusalem.

'Slap of the century'
On January 2, Israel's parliament gives final approval to legislation aimed at making it more difficult for the government to hand the Palestinians parts of Jerusalem under any future peace deal.

On January 14, Mahmud Abbas denounces White House peace efforts as "the slap of the century" and charges that Israel has "ended" the 1993 Oslo peace accords on Palestinian autonomy.

He reiterates the Palestinians no longer accept the United States as a peace mediator.

Palestinian leaders vote on January 15 to call for the suspension of their recognition of Israel, but implementation of such a move remains in the hands of the Palestine Liberation Organisation's executive committee.

On January 16, Washington holds back $65 million that had been earmarked for the United Nations relief agency for Palestinian refugees, UNRWA.

US Vice-President Mike Pence on January 22 receives a warm welcome in Israel but his visit to the region is snubbed by the Palestinians.

In a speech to parliament Pence pledges that the US will move its embassy to Jerusalem "before the end" of 2019, while also urging the Palestinian leadership to "return to the table" for talks.